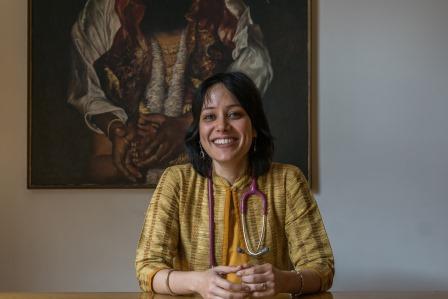 Dr. Neha Joshi
Paediatrics
Degree: MBBS, Maulana Azad Medical College (2003); MD, Maulana Azad Medical College (2008); MRCPCH, Glasgow, UK in 2011
Experience: 10 Years
OPD Timings
Monday: 11:00 a.m. – 2:30 p.m
Tuesday: 10:00 a.m. – 1:00 p.m
Wednesday: 11:00 a.m. – 3:00 p.m
Friday: 11:00 a.m. – 3:00 p.m
Saturday: 11:00 a.m. – 3:00 p.m.
Consultation Fees
Rs. 1000
24x7 Pediatric Support Available for Emergencies
Feel free to walk into our emergency anytime to get assisted by a qualified pediatrician round the clock. Call us at 011 – 42111197.
"Clinical Spectrum of Fever of Unknown Origin among Indian Children". Ann Trop Paediatr 2008 Dec; 28(4):261-6.
"Omental Cyst presenting as Tubercular Ascites". J Infect Dev Ctries 2010; 4(3):183-186
An Unusual case of Recurrent Respiratory Distress. Iran J Pediatr 2010; 20(4):495-497
"Spinal Epidural Abscess with Myelitis and Meningitis caused by Streptococcus Pneumoniae in a young child", Journal of Spinal Cord Medicine. Accepted on 25th October, 2010
'Cranial nerve palsies in typhoid fever: three case reports', submitted to Annals of Tropical Paediatrics. Accepted on 29th April 2011
Awarded the R. Vishwanathan Prize by University of Delhi for securing the highest percentage of marks in Medicine amongst all Delhi University candidates of final M.B.B.S in 2003
Held distinction for winning Dr. Sanjay Sidhwa Memorial Gold Medal and Dr. K.K. Modawal Memorial Gold Medal for Best Student in Medicine for the year 2003
Awarded the Lord Shiva Charitable Trust Gold Medal for Best Girl Student in Medicine in M.B.B.S. (Final) for the year 2003
Won the Capt. S.S. Rampal Gold Medal for Best Student in Surgery for the year 2003
Tips for Parenting and Child Care
Dengue symptoms in babies in Hindi | 0-1 years |
Recent Reviews
Patient reviews for Dr. Neha Joshi
Genuine, Honest, Sensitive & Focused
★★★★★
"
it's been over 5 years that i have been visiting dr Neha for my 5 yr old daughter and 17 month old son... She is one of the most honest doctor that i have come across. she always gives advice keeping interest of the child in mind. her way of explaining things simple and tailored. she understands children and above all parents who bring their unwell child... compassion, empathy and honesty with passion for her profession and smile that ensure everything will be fine describes Dr Neha.
"
A superb doctor and human being
★★★★★
"
Dr. Neha is truly a very simple, nice, genuine and genious doctor with a focused approach towards diagnosis and treatment. She explains all the procedure so nicely to the parents that I have never ever seen in my life. I always recommend her to everyone. Now I have moved to some other state but whenever my kid gets sick, I always prefer to come here only to get her expert advice and treatment. My child always responds very well to her treatment. I would highly recommend Dr. Neha to any parent looking for top-quality childcare.
"
Sensible, gentle and competent doctor
★★★★★
"
Truly caring, with informative advice and with the smile that all kids need is Dr Neha Joshi. My one-month-old grandson got his one-month immunisation today but his mother and grandmothers (both!) also got answers to a lot of questions on baby care unintrusively and patiently from the young doc.
"