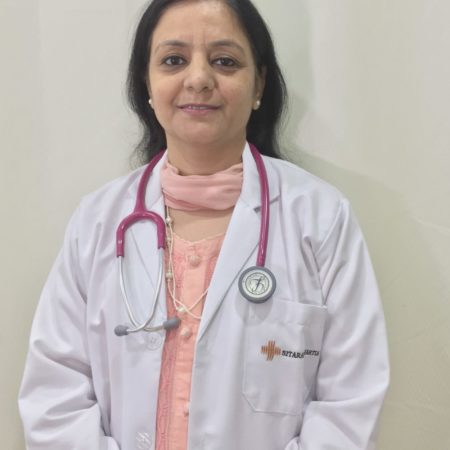 Dr. Mandeep Kaur Walia
Consultant, Pediatric Pulmonology
Dr Mandeep Kaur Walia is a pediatric pulmonologist with over 17 years of experience. She treats conditions like wheezing, recurrent cough, recurrent pneumonia, asthma, tuberculosis and other chronic and complex respiratory conditions in children
Degree: MBBS, Lady Hardinge Medical College, Delhi; MD (Pediatrics), Safdarjung Hospital, Delhi; Training in Pediatric Pulmonology, AIIMS, Delhi; Fellowship, Pediatric Respiratory Medicine, University of British Columbia, BC Children's Hospital, Vancouver, Canada; Post Graduate Diploma in Epidemiology, Indian Institute of Public Health, Delhi.

Experience: 17 years
Specialisation: Pediatric Pulmonology
OPD Timings:
Tuesday: 4:00 pm to 6:00 pm
Friday: 4:00 pm to 6:00 pm
Consultation fees: ₹1500
Procedures offered by Dr Mandeep, Pediatric Pulmonologist:
Flexible fibreoptic bronchoscopy & bronchoalveolar lavage, 

which is a test to view the airways and diagnose lung disease. The flexible bronchoscope is inserted through the nose, and it goes through the throat and into the airways.

Lung function tests

which are a series of breathing tests designed to measure the amount of air in the lungs and how well the child can move the air in and out of the lungs. These are easy, non-invasive and painless tests which require children to follow simple directions.

Sweat chloride test

measures the amount of chloride in the child's sweat. It is the best way of checking for a health problem called cystic fibrosis (CF).

Skin prick allergy test which

is used to find which allergy-causing substances (allergens) are causing reactions in your child. These are the most reliable for diagnosing allergies to airborne particles such as pollen, pet dander and dust mites.

Nasal brushing is done by inserting a tiny brush into each nostril to collect the microscopic cilia (hair-like structures). This procedure may be a little uncomfortable but is performed quickly. 
Chest physiotherapy is a physical therapy which is airway clearance technique done by getting the person in different positions and using gravity to drain mucus.
Pediatric Sleep Study is a test that measure your child's bodily functions during sleep. There will be small elastic bands, probes and sensors put on or near their body parts depending on the tests required.
Non-invasive Ventilation refers to providing air/oxygen to the lungs using techniques that do not require an invasive artificial airway.
24x7 Pediatric Support Available for Emergencies
Feel free to walk into our emergency anytime to get assisted by a qualified pediatrician round the clock. Call us at 011 – 42111197.
Frequently Asked Questions (FAQs) about Pediatric Pulmonology
What is a pediatric pulmonologist?
A pediatric pulmonologist is a doctor trained in diagnosing and treating children with breathing and lung problems. They are known as pediatric chest or respiratory specialists.
When to see a pediatric pulmonologist?
You should see a pediatric pulmonologist when you notice wheezing, noisy breathing, chronic or recurrent cough or notice your child struggling with breathing.
Systematic Review on Efficacy of Magnesium (Intravenous or Nebulized) for Acute Asthma Episodes in Children: Pediatric Pulmonologist's Viewpoint. Indian Pediatr. 2017 Feb 15;54(2):136-137
Post-Measles Bronchiolitis Obliterans in a 3-y-old Girl. Indian J Pediatr. 2012Mar;79(3):399-400
Community-acquired pneumonia in children. World Clin Pulm Crit Care Med.2012;1(1):117-23
Swyer-James-Macleod syndrome in a 10-year-old boy misdiagnosed as asthma. Indian J Pediatr 2010 Jun;77 (6):709
Factors associated with treatment failure in childhood tuberculosis. Indian Pediatr 2008 Sep;45(9):769-71
Idiopathic pulmonary hemosiderosis: clinical profile and follow up of 26 children. Indian Pediatr 2007 May;44 (5):333-8
Assessment of inhalation technique and determinants of incorrect performance among children with asthma. Pediatr Pulmonol 2006 Nov;41(11):1082-7
Best Poster: "Assessment of inhalation technique and determinants of incorrect performance among children with asthma", National Conference of Indian Academy of Pediatrics, Respiratory Chapter, 2006
Tips for Parenting and Child Care
Seasonal Flu In Children – Things A Parent Should Know
"Influenza, commonly known as the flu, is a contagious respiratory infection caused by a virus," said Dr. Mandeep Walia, Consultant Pediatric Pulmonologist at Sitaram Bhartia Hospital in Delhi. The influenza virus outbreak happens every year, especially in the winter season.
Notice Dengue Symptoms in Your Child? Here's What to Do
As dengue symptoms in children are similar to those in less severe fever infections, it can be difficult to differentiate between them without a blood test.
Recent Reviews
Patient reviews for Dr Mandeep
★★★★★
"
Dr Mandeep has become like family member. Her polite nature is very nice. She attends the patient like her own children.
"
★★★★★
"
Excellent doctor takes genuine interest in the patient care. Highly recommended.
"
★★★★★
"
Doctor is courteous and assuring instead of scaring unnecessarily.
"
★★★★★
"
It is well maintained. Very satisfied.
"
Dr mandeep
★★★★★
"
Good diagnosis and treatment. Still under treatment.
"
Dr mandeep
★★★★★
"
Good diagnosis and treatment. Still under treatment.
"
★★★★★
"
Dr Mandeep is such a good and polite doctor. My child was admitted here but now he is all bettee under her expert care. The pediatric coordinators are also so cooperative, they make the whole doctor visit effortless and smooth.
"