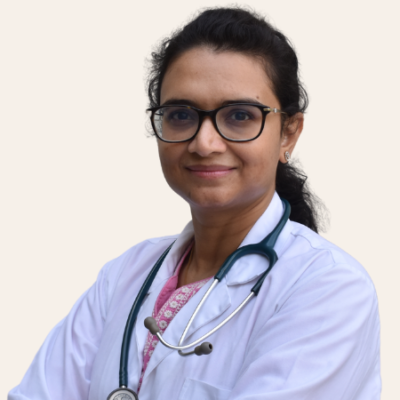 Dr. Shubham Roy
Pediatrics
Dr. Shubham Roy I Developmental Pediatrics
Dr. Shubham Roy  is a Developmental and Behavioural Paediatrician. Her clinical expertise includes diagnosis and management of children with developmental delays, disorders and disabilities. She has worked as a Senior Resident in Paediatrics at Dr. RML Hospital and VMMC & Safdarjung hospital, New Delhi. She completed her training in Developmental and Behavioural Paediatrics from pioneer institutes in the field of child development in South Asia region i.e. from Ummeed child development Centre, Mumbai and  Developmental Neurology from Child Development Centre (CDC), Thiruvananthapuram, Kerala. She has published numerous articles in various national and international journals and presented research papers in many National and International conferences.
Degree: MBBS, Kasturba Medical College, Mangalore, Karnataka (2006); MD (Pediatrics) Rajendra Institute of Medical Sciences, Ranchi, Jharkhand (2012); IAP Fellowship in Developmental and Behavioral Pediatrics (2021)
OPD Timings
Tuesday, Friday: 5:00 pm to 7:15 pm
Consultation Fees
₹ 1500
What are developmental disorders?
Delayed development in speech-language, motor skills or thinking ability .
Cerebral palsy, Global developmental delay, Intellectual disability, visual and hearing impairments.
Autism Spectrum disorder
Attention and behavioral disorders including Attention Deficit Hyperactivity Disorder (ADHD).
Academic difficulties: Learning disabilities like dyslexia, writing difficulties (dysgraphia) and other school related learning activities.
Down syndrome and other genetic syndromes.
Sleep disorder, feeding problems, and difficulty in performing other activities of daily living.
Developmental Coordination Disorder or Dyspraxia.
What does a Developmental Pediatrician do?
A developmental Pediatrician is a Pediatrician with additional subspeciality training in Developmental and Behavioral disorders of children.
They assess all aspects of development, including language, social communication and interaction skills, play, behavior, motor and cognitive skills to decide on the developmental needs and to reach a diagnosis.
They evaluate, counsel, and provide treatment for children, adolescents, and their families with a wide range of developmental and behavioral difficulties.
They also do follow up of High risk newborns to identify delays at the earliest and start early interventions for best possible outcome.
Dr. Shubham Roy | Developmental Pediatrician Overall rating: ☆☆☆☆☆ 0 based on 0 reviews.
Anonymous