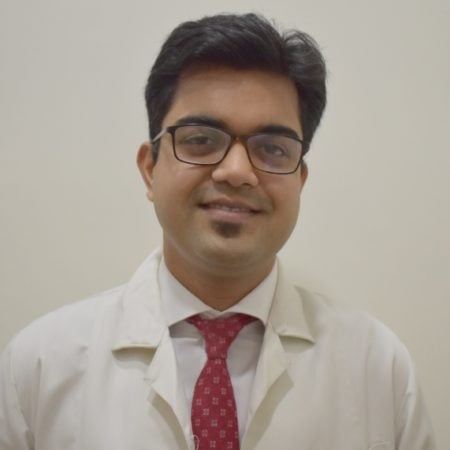 Dr. Mankul Goyal
Consultant, Pediatric Dermatology
Dr. Mankul Goyal is a Pediatric Dermatologist. He holds interest and expertise in treating conditions like skin allergies, atopic dermatitis, acne, white skin disease (vitiligo), alopecia, hemangioma, food allergies and their impact on skin. He likes to treat children with a holistic approach including diet and lifestyle management.
Degree: MBBS, AIIMS, New Delhi (2010); MD Dermatology, AIIMS, New Delhi (2014); Hospitation, Dessau Medical Center, Germany (2016), Diploma in Integrated Medicine, Cape Town (2018)
Experience: 7 years
Key skills:

Cryotherapy for Warts
Radiofrequency ablation for warts, molluscum contagiosum
Low level laser light therapy
Integrative and Holistic Medicine
OPD Timings:
Monday: 9:00 am to 11:00 am
Wednesday: 1:00 pm to 4:00 pm
Friday:10:00 am to 12:00 pm
Consultation Fees: ₹1200
A Study of the Histopathological Features of Alopecias on Transverse Sections of Scalp Biopsies. Goyal M, Khandpur S, Ramam M, Sharma VK, Singh MK. Indian J Dermatol. 2019 Jan-Feb;64(1):47-54. doi: 10.4103/ijd.IJD_477_17.
Perforating granuloma annulare in a young male following application of the tattoo. Madan NK, Vallonthaiel AG, Arava S, Ali MF, Goyal M, Singh MK. Indian Dermatol Online J. 2015 Jul-Aug;6(4):296-8. doi: 10.4103/2229-5178.160286
Book Chapter "Hidradenitis Suppuritiva" in Springer's book titled "Pigmented Ethnic Skin and Imported Dermatoses" (2018).
Tips for Parenting and Child Care
Dengue symptoms in babies in Hindi |0-1 years|
Recent Reviews
Patient reviews for Dr Mankul
[RICH_REVIEWS_SNIPPET category="page"]