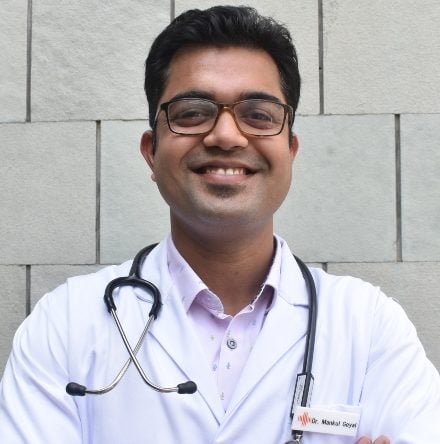 Dr. Mankul Goyal
Consultant, Pediatric Dermatology
Dr. Mankul Goyal is a dermatologist who treats both adults and children. He holds interest and expertise in treating conditions like skin allergies, atopic dermatitis, acne, white skin disease (vitiligo), alopecia, hemangioma, food allergies and their impact on skin. He likes to treat children with a holistic approach including diet and lifestyle management.
Degree: MBBS, AIIMS, New Delhi (2010); MD Dermatology, AIIMS, New Delhi (2014); Hospitation, Dessau Medical Center, Germany (2016), Diploma in Integrated Medicine, Cape Town (2018)
Experience: 7 years
Key skills:

Cryotherapy for Warts
Radiofrequency ablation for warts, molluscum contagiosum
Low level laser light therapy
Integrative and Holistic Medicine
OPD Timings:
Monday: 12:00 am – 02:00 pm
Thursday: 03:40 pm – 06:40 pm
Saturday: 02:40 pm – 04:40 pm
Consultation Fees: ₹1600
Please call us on 011 4211 1111 for any inquiries.
For appointments please call us on 011 4211 1111.
A Study of the Histopathological Features of Alopecias on Transverse Sections of Scalp Biopsies. Goyal M, Khandpur S, Ramam M, Sharma VK, Singh MK. Indian J Dermatol. 2019 Jan-Feb;64(1):47-54. doi: 10.4103/ijd.IJD_477_17.
Perforating granuloma annulare in a young male following application of the tattoo. Madan NK, Vallonthaiel AG, Arava S, Ali MF, Goyal M, Singh MK. Indian Dermatol Online J. 2015 Jul-Aug;6(4):296-8. doi: 10.4103/2229-5178.160286
Book Chapter "Hidradenitis Suppuritiva" in Springer's book titled "Pigmented Ethnic Skin and Imported Dermatoses" (2018).
Tips for Parenting and Child Care
Dengue symptoms in babies in Hindi |0-1 years|
Recent Reviews
Patient reviews for Dr Mankul
Dr Mankul Goyal | Pediatric Dermatologist Overall rating: ★★★★★ 5 based on 2 reviews.
Anonymous
All Rounder Patient Centric Doctor
★★★★★
"
Usually I prefer older doctors myself being 62 yrs because I feel youngsters are after money only having paid donation to colleges. I did not even know he is from AIIMS & I see it only now... so, no doubt his background education talks. But there is an intrinsic quality in him which deserves my review. This quality did not come from AIIMS.. it is his personal quality. And I am comparing him with 2 other skin doctors in Delhi who are much older and senior to him. He is much better at least in patient handling and I am sure he will be successful in cure % too .. time will show as I have started treatment only today and as skin usually does not get cured easily which i hear from my own doctor family members. Specifically he :- ---------------------------- 1. is A Patient listener--- listened to everything I said and responded. Response hardly comes from other doctors these days!! 2. Explains everything & beyond his Skin subject too -- Talked about my stress how to reduce by meditation and deep breathing etc, talked about alcoholism and effect on coping capability to stress, explained diabetes, etc unlike other docs who keep mum and leave the patient in dark here is one DOC who explains everything even the effect of Steroids if he is prescribing one. 3. Meticulous-- I saw him write everything in right place in the OPD card.. This shows his mind is meticulous.. He does NOT leave anything. Such a doctor will also not miss anything in a patient. 4. Has ownership of his patient. -- This is a much needed Value in doctors. I got that feeling and have reasons for the same too. Please do not leave Sitaram Bhartya ...and Carry on the GOOD WORK !!
"
★★★★★
"
It's good, coordinator is behaviour is so helpful and friendly. Dr Mankul is very nicd. My experience is very good.
"