There are a lot of misconceptions around sexual health and sexuality amongst young teenagers. They are often not fully aware of the appropriate ways to avoid pregnancy leading to disastrous consequences.
According to a report by NCBI, almost 30% of boys and 17% of girls above the age of 14 years are sexually active in India. It is therefore very important for today's adolescents to be aware of the various methods they can easily use to avoid pregnancy.
"Getting pregnant at an early age not only puts the teenager's health at risk but also poses a grave threat for the unborn baby. The chances of complications increase for example, high blood pressure, preterm births," explains Dr. Anita Sabherwal.
Early pregnancy negatively affects the personal, social and educational life of a teenager who is not ready to be a mother yet. It also takes a huge toll on her mental health as she is not physically, emotionally and financially independent to take good care of herself and her baby.
Therefore, contraception is an important issue as it is the key element that can help avoid pregnancy in teenagers.
Some of the FAQs that teens often have are –
What are the safe days?
What contraceptive methods are safe to use for teenagers?
What to do when you have unprotected sex?
When is it safe to have sexual intercourse if you want to avoid pregnancy?
The highest chances of pregnancy in a woman are around ovulation. Ovulation is the release of a mature egg from one of the ovaries and when this mature egg fertilizes with the sperm, pregnancy occurs.
In a woman who has regular menstrual cycles 28-30 days, ovulation will occur at about 12th to 16th day of period cycle. Hence, in theory the maximum chances of pregnancy are at this time and rest days may be considered as safe for unprotected sex.
"But it's very difficult to find out when exactly you will be ovulating because ovulation gets affected by a lot of external factors like stress, illness and hormonal imbalance. Also in young girls, cycles are often irregular. Hence, in any age, if a woman wishes to avoid pregnancy there are no safe days to have unprotected sex" explains Dr. Anita Sabherwal.
It is always safer to use contraceptive methods if you want to avoid pregnancy."
Methods of contraception to avoid pregnancy in teenagers
Contraception is use of methods to avoid unwanted pregnancies. Contraceptive methods suitable for young women or adolescents are primarily condoms and oral pills. Other methods like injections and intra-uterine devices, like multiload and mirena, can be used but are not popular due to side effects:
Condoms: Male condom is an effective way to avoid pregnancy.
The biggest advantage of using condoms is that it prevents spread of Sexually Transmitted Diseases (STDs). It is best to discuss and understand its proper use by consulting a medical professional.
"Use of condoms must be encouraged especially among teenagers for better contraception. However, they need proper counselling about its correct and timely application." Dr Anita.
Oral birth control pills: Use of oral birth control pills is a very effective and relatively safe method of contraception to avoid pregnancy in young women.
How do birth control pills help to avoid pregnancy?
Contraceptive pills contain a combination of hormones, estrogen and progesterone, which prevent ovulation. Some pills also thicken the cervical mucus (secretions at the mouth of uterus) making it difficult for the sperm to enter the uterus and fertilize the egg.
The pills are usually available in 21-day or 28-day packs and 1 pill has to be taken daily for effective results. It is best to take a pill at the same time every day even if one is having sex or not. You should consult a doctor before starting use of the birth control pills to rule out health issues and to understand the benefits and side effects.
"I recommend youngsters to consult a doctor before using contraceptive pills so that they can be counselled adequately about when to start the pill, which pill would be best suited, what to do if you miss a pill, how long you can continue them." Dr Anita.
What to do when you have unprotected sex – Emergency contraception
When you have unprotected sex or if while using condom it slips or tears or if you forget to take the pill, you may need a backup emergency contraception to avoid pregnancy.
Emergency contraception is a high dose hormonal pill which needs to be taken as soon as possible or within 72 hours (3days) of unprotected sexual intercourse to prevent unwanted pregnancy. Though the pill is quite effective, you must always check for pregnancy if you skip your period.
"I don't recommend use of emergency pill on regular basis as it can cause irregular periods, cysts in ovary and you may miss a pregnancy. It has to be only very rarely in genuine emergency." Dr Anita.
Aarushi's story of using contraception
Aarushi (18) had been taking birth control pills for two months now. One day morning she realized that she had forgotten to take the pill the previous night and had recently engaged in unprotected sexual intercourse with her partner. She was scared about getting pregnant but was hesitant to approach a gynecologist. She tried a few remedies suggested by internet but still wanted to seek medical advice. Thankfully, she remembered her friend had mentioned a gynecologist Dr. Anita Sabherwal who was a very friendly doctor. She decided to go to her for help.
"If you miss one pill take two the next day. It is as simple as that. You may need to take emergency contraceptive pill if you miss two and have had sex in that time." Dr. Anita. She was also counselled about why it is important to use external contraceptives like condoms along with regular birth control pills.
Adopting safe contraceptive methods go a long way in protecting you from unnecessary mental trauma caused by unwanted pregnancies.
Seek expert advice from our expert gynaecologist at our hospital located in South Delhi. Come in for an in-person consultation or book a tele-consult. Please call on +91 9871001458 to schedule your appointment.  
This article has been written with Dr. Anita Sabherwal Anand, Consultant, Obstetrician-Gynecologist at Sitaram Bhartia Hospital in South Delhi. Dr. Anita is a highly qualified gynecologist with 20+ years of experience who is trusted by low-risk and high-risk mothers alike for her guidance on having a healthy pregnancy and delivery.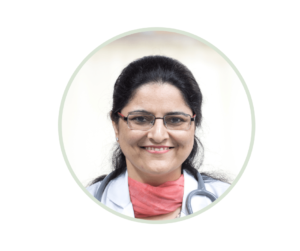 MBBS, Lady Hardinge Medical College, University of Delhi (1992); MD (Obstetrics & Gynaecology), Lady Hardinge Medical College, University of Delhi (1997); DNB Secondary (Obstetrics & Gynaecology), National Board of Medical Education, New Delhi (1999)