Meenal was eight months pregnant when she visited her in-laws.
She was feeling healthy and fit and was active throughout the day. But her mother-in-law was extremely concerned that she was not taking enough rest as the eighth month of pregnancy was critical.
Special precautions were imposed on her to prevent premature birth.
Meenal, a yoga trainer, was used to regular exercise and was confused. She came to us for a second opinion.
The gynecologists at Sitaram Bhartia calmed her down and told her that preterm labour (labour before 37 completed weeks) or premature birth happens in about 1 in 10 women naturally.
How to prevent premature birth?
There is no special precaution you can take to prevent preterm labour from occurring.
A woman who has had a previous natural preterm birth has a slightly higher chance of another preterm delivery.
What are the symptoms of preterm labour?
Meenal wanted to know about the signs and symptoms of preterm labour so that she could reach the hospital in time.
"Two to three regular painful cramps in 10 minutes with or without watery or blood stained discharge may indicate you are in preterm labour," says Dr Rinku Sengupta, Consultant Obstetrician at Sitaram Bhartia Hospital in South Delhi.
The doctor may do a gentle internal examination to see whether your cervix (mouth of the uterus) is dilated. If the cervix is 4 cm dilated you may be in established labour.
Can preterm labour be delayed or stopped?
"There are medicines which can be used to slow or delay preterm labour but how well you respond to these medicines can vary from person to person," says Dr Rinku.
"We may also give you steroid injections to hasten your baby's lung maturity and magnesium sulfate injection to protect your baby's brain if you go into preterm labour."
Meenal wanted to know whether the mouth of the uterus can be stitched to prevent it from dilating further and thus stopping preterm labour.
"A stitch may help those women who have painless dilatation of the cervix. But it will not help women who have contractions because the ongoing contractions will not allow the stitch to hold the cervix."
How does premature birth affect the baby?
Babies who are born more than 30 weeks usually do quite well, but they may have to stay in the neonatal care unit for a variable period.
Preterm babies may need to be kept extra warm and may need assistance for regular breathing and feeding.
Most babies do very well under the care of doctors (neonatologists) and nurses in the neonatal care unit.
Majority of babies born after 34 weeks may not require any active assistance and are shifted to the mother's side soon after.
Preterm birth complications
A small percentage of premature babies especially those born before 30 weeks may develop complications like cerebral palsy, vision issues and impaired hearing.

These babies may also be at a higher risk of developing learning disabilities, behavioural and psychological problems.
"Some complications cannot be prevented but early identification, diagnosis and management can improve the outcome."

Conclusion
Meenal felt reassured with the answers to all her questions.
She came to us in labour at 36 weeks and had a normal delivery of a 2.5 kg healthy baby. Her baby did not require any active assistance and breastfeeding was initiated immediately after birth.  A delighted Meenal went home with her baby after a couple of days.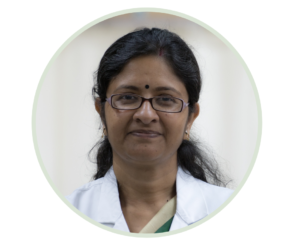 This blog post has been written with editorial inputs from Dr Rinku Sengupta, Consultant and Head Maternity Program, who has over 24 years of experience. Dr Rinku is known for her expertise in vaginal birth after cesarean. She also actively conducts and participates in seminars for the medical community to improve awareness on how normal delivery after cesarean can be encouraged in a public and private setting.
Seek expert advice from our expert gynaecologists. Come in for a complimentary consultation. Please call on +91 9871001458 to schedule a free consultation.