My husband Rishabh and I had been trying to get pregnant for more than a year but with each negative pregnancy result – we were losing hope.

There were times I thought I showed signs of pregnancy but when they turned out to be false, we had to start all over again.  
We were frustrated.
A friend recommended Sitaram Bhartia Hospital in Delhi where we met Dr Priti Arora Dhamija, an infertility specialist.
After a thorough medical check-up and an in-depth discussion, she suggested an IUI procedure.  
What is an IUI Procedure?
"An IUI procedure is a fertility treatment where the sperm is artificially inserted inside a the uterus for potential fertilization" explained Dr Priti.

Since we weren't very familiar with IUI before, learning about it made us more open to the idea.

After our consultation, Rishabh and I concluded that it was worth giving a shot.
What happens in an IUI Process?
The process varies from couple to couple. We went through three steps before the artificial insemination process:

1. Preliminary Investigations
Dr. Priti asked me to get us to get blood tests to check my hormone levels. Rishabh got his sperm analyzed to inspect it's quality and motility.

2. Ultrasounds during mid-cycle
In the first week of my menstrual cycle, I was asked to take certain injections.

"These injections help in producing 2-3 mature eggs for the IUI procedure" informed Dr Priti.

I went for ultrasounds every other day during mid-cycle. This helps the doctors track the number of eggs and their development.

What I learned: The IUI procedure requires commitment from both husband and wife. You have to be willing to make frequent visits to the hospital.
3. Trigger Shots
"Once the egg matures, a trigger injection is given for the release of the eggs,"  said Dr Priti.

The IUI procedure is attempted 32-36 hours after the trigger injections.

IUI Procedure: What happens in the doctor's OPD
On the day of the procedure, I couldn't help feeling a bit nervous.

Thankfully, Rishabh was there holding my hand to calm me down.

He didn't have to be there.

He had already given his semen sample in a container but he wanted to be with me for emotional support.
"The fresh semen sample is sent to the lab for processing and selecting the most active sperms," said Dr Priti.

A short while later I was called into the doctor's room.
As soon as I entered I could see the cup bearing Rishabh's name.

I was asked to lie down on the bed.

The processed sperm was inserted into my uterus using a cannula. The process felt a little awkward but not painful as I had imagined it to be. It was similar to an internal examination.

After the procedure, I was asked to rest for half an hour.

"Some women experience side effects of IUI like abnormal vaginal discharge, minor cramping or spotting," said Dr Priti.
Luckily, I didn't experience any of these.
The Waiting Period
We were asked to take a pregnancy test after 2 weeks.
It was a long and hard wait for us.
When I finally took the test..
The faint pink line did not appear. We weren't pregnant.
After all that effort, yes, we were distraught.
Dr Priti had informed us "Success rates for IUI depend on many factors like age and fertility problem and could be between 5-15%."
Getting Pregnant with IUI
Since an IUI is a relatively inexpensive method compared to IVF and has decent success rates, we decided to give it another try.
This time we were able to conceive.

We are so thankful that we took Dr Priti's advice and tried the IUI procedure.

I am now 34 weeks pregnant and preparing for a normal delivery under the care of the team of gynecologists at Sitaram Bhartia Hospital.

"IUI was a ray of hope for my wife Riya and I, and it worked for us!" concluded Rishabh Rai.
Do you still have questions regarding IUI procedure? Seek expert advice from our expert gynaecologist at our hospital located in South Delhi. Come in for an in-person consultation or book a tele-consult. Please call on +91 9871001458 to schedule your appointment.
Learn more about Fertility Services at Sitaram Bhartia
This article has been written with inputs from Dr. Priti Arora Dhamija, who has over 16 years of experience as a fertility specialist and obstetrician-gynecologist. She has received training from the Indian Fertility Society in Assisted Reproductive Technologies and fertility enhancing laparoscopy.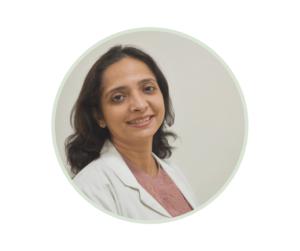 Dr. Priti Arora Dhamija, MBBS, Maulana Azad Medical College, Delhi (1999); M.D, Lady Hardinge Medical College (2004); DNB Obstetrics & Gynecology (2004); Diploma in Pelvic Endoscopy, Kiel, Germany (2014)