Your baby's head starts to descend into the lower part of the uterus and further into the pelvis as your body prepares for labour. 'Baby dropping' or 'lightening' occurs when the baby's head moves into the pelvis. In simple terms we could say the baby's head has engaged.
"Medically speaking, the baby's head is considered engaged when the bi-parietal diameter (widest part) of the head enters the pelvis,"  says Dr. Anita Sabherwal Anand, Consultant Obstetrician-Gynecologist at Sitaram Bhartia Hospital in South Delhi.
"The baby's head may get engaged any time after 38 weeks. In most mothers, true engagement of the baby's head actually occurs in labour."
How do I know if my baby has dropped into my pelvis?
There are a few symptoms that your baby's head has engaged, but these may vary from mother to mother. 
Lowered baby bump


When your baby's head has moved into the pelvis, it may seem like your baby bump has shifted downward.

"Often an elder family member or your husband may notice the change, particularly when you stand,  even if you don't notice it yourself," says Dr. Anita.
Increased urge to pass urine
As the baby drops into the pelvis, it presses on the urinary bladder. You may start feeling that you have to pass urine more often than before. You may also sometimes feel that you are unable to pass urine completely.
Presence of back or pelvic pain


When the baby's head engages, it puts more pressure on the pelvic region and the back. You may start noticing pain and discomfort in the pelvic area and back especially while lying down or standing.

Improved breathing

You no longer feel short of breath as there is no pressure on the diaphragm as the baby has moved down.

Increased appetite
When the baby drops into the pelvis, your abdomen may feel lighter, and your appetite may improve since you no longer feel full.
Apart from these symptoms, there is no way to check at home whether the baby's head has engaged. 
If any pain, excess discharge or bleeding accompanies any 'baby dropping' symptom get in touch with your doctor as soon as possible. 
Can you feel when a baby's head engages?
Some expecting mothers may feel the baby dropping into the pelvis while others may not. Since the baby shifts, it frees up the space in the abdomen. This is called 'lightening' and the mother feels 'lighter'. 
When a baby's head is engaged, how long is it until labour begins?
Contrary to what many people believe, symptoms of the baby's head being engaged, don't necessarily imply that labour will begin soon. 
"When the baby moves down into the pelvis, it means the body is preparing for labour but there is no way to tell how soon labour will begin. It may take one to two weeks."
When does 'engagement of the head' occur?
For first-time mothers, engagement usually takes place around 38 weeks. 
For second-time mothers or those women who've had many children before, the baby may drop closer to labour, sometimes right before labour begins. 
According to a study, engagement occurred during the active phase in 93.2% of mothers.
Women often get worried if their baby hasn't engaged until a certain time. 
"There is no need to get anxious. Think positive and trust the birth process."
"Keep yourself active, as this will not only benefit you physically but will also strengthen you emotionally."
Physical activity or exercise also helps the baby turn during pregnancy.
How to Engage Baby Head in Pelvis
Antenatal exercises help bring the baby down and strengthen your muscles:
Walks:

Brisk walking for about 45-60 minutes daily is one of the safest ways of making your baby move.




Squats:

Squats help build up pelvic muscles and bring the baby down. They may also help in reducing back and pelvic pain.

Cat and camel exercises:

This exercise helps to align the baby with the pelvis particularly in the last month of pregnancy as the lower part of the uterus readies itself for labour. It is recommended for mothers with a

breech baby

as well as it helps in moving the baby in the head down position. 
"Attempt these exercises only after consulting your gynecologist, especially if you have a pre-existing medical condition."
"If you start getting breathless while exercising, stop immediately and rest."
What Should I do When My Baby Has Dropped
If you feel any symptoms that indicate your baby's head has engaged, check with your gynecologist. 
She will examine you to assess the position of the baby's head in the pelvis. 
"If your baby doesn't drop or the baby's head is not engaged at term, according to your family or doctor, don't lose hope. "
What Should I do If I don't Feel Any Symptoms That Indicate That The Baby's Head Has Engaged
"In medical terms, the baby's head actually engages during active labour in a majority of women. Before that, the baby's head may not have fixed."
"It is important to follow a strict exercise and diet regimen during pregnancy so that during labour you are ready to accommodate and guide your baby through the pelvis. Most importantly have faith in your body and do what is best for your baby."
Come in for a consultation  Please Chat with us on WhatsApp to schedule an appointment.

This article has been written with Dr. Anita Sabherwal Anand who has interests in general and high-risk obstetrics.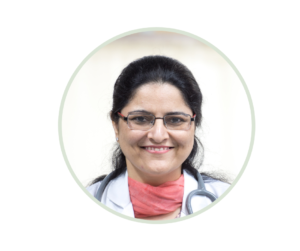 MBBS, Lady Hardinge Medical College, University of Delhi (1992); MD (Obstetrics & Gynaecology), Lady Hardinge Medical College, University of Delhi (1997); DNB Secondary (Obstetrics & Gynaecology), National Board of Medical Education, New Delhi (1999)