Women who have been detected with fibroids (non-cancerous growths or tumors) and want to have children in the future may be suggested a laparoscopic myomectomy to remove the fibroids while leaving the uterus in place.  
Richa Choudhary, 32, visited her gynecologist when she experienced symptoms like heavy periods and pelvic pain for two months. Her doctor suggested a hysteroscopy to diagnose the cause of the bleeding. 
"We suspected fibroids, as Richa's symptoms were characteristic of the condition," says Dr. Priti Arora Dhamija, Senior Obstetrician-Gynecologist & Fertility Expert at Sitaram Bhartia Hospital in South Delhi.
According to studies, fibroids are common, with an incidence of 24% in urban India. Most women, however, do not experience symptoms with fibroids. 
"So when women face discomfort and plan on conceiving, we may suggest a laparoscopic myomectomy after a detailed evaluation." 
The recommended type of myomectomy depends on the size, location and number of fibroids.
Types of Myomectomy
"Laparoscopic myomectomy is the preferred surgery of choice as it involves removal of fibroids through a small incision in the abdomen. It can be performed for almost all types of fibroids, except for submucosal fibroids," explains the doctor.
Can large fibroids, like  a 10 cm fibroid,  be removed laparoscopically?
Yes, it is possible but it depends upon the expertise of the surgeon. 
The traditional method of abdominal myomectomy (open surgery) may be suitable for  women with multiple big fibroids. A big incision is made in the lower abdomen area, near the bikini line, which enables the surgeon to dissect and remove single or multiple fibroids. 
In Richa's case, the hysteroscopy confirmed the presence of multiple small fibroids. 
Since Richa was keen to get pregnant, the doctor advised a laparoscopic removal of the fibroids.
Richa understandably had questions about the procedure.
Is laparoscopic myomectomy major surgery?
Though laparoscopic myomectomy is a minimally invasive surgery, it is a major surgery. 
It is a relatively new surgery that has evolved due to advancements in technology.
Is laparoscopic myomectomy  safe?
A laparoscopic myomectomy is safe when performed by a skilled surgeon. 
Like any other major surgery, it is associated with a few risks such as bladder and bowel injuries, excessive blood loss and infection. 
As with other laparoscopic surgeries, there is a remote possibility that it may convert into an open surgery if there are complications during the procedure.
"Still laparoscopic myomectomy is preferred by most patients as it involves an easier recovery (due to the small incisions), less pain after surgery, a shorter hospital stay and recovery time." 
After she was aware of the benefits and possible risks of surgery, Richa inquired about the prospects of a successful pregnancy after myomectomy. 
Will I have a high-risk pregnancy after a myomectomy?
"If you have had a laparoscopic or abdominal myomectomy and get pregnant afterward, your pregnancy will be categorized as 'high-risk', " counsels the doctor, " but you shouldn't stress over it."
"You will require extra monitoring during labour, so it is advised that you deliver in a hospital that is well-equipped to handle high-risk pregnancies." 
Desirous of a normal birth, Richa posed her next question.
What are the chances of a vaginal birth after surgery?
"The chances of a vaginal birth after a laparoscopic myomectomy cannot be foreseen. That said, many women can have a vaginal birth."
"Some women may not be eligible for a trial of labour after a myomectomy and so it is recommended that they should have a planned cesarean section."
"This is because there is a risk of the myomectomy scar rupturing during labour, which makes it unsafe for them to try for labour," informs the doctor.
Hear from Deepti Menon, who had an abdominal myomectomy and a cesarean in the U.S. as she shares her experience of a normal delivery at our hospital in Delhi after two 'open' surgeries.
Now hopeful about giving birth naturally, Richa proceeded to ask the doctor what she should keep in mind for surgery.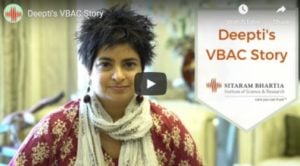 How should I prepare for fibroid surgery?
A pelvic ultrasound and in some cases, an MRI is recommended to identify the size and location of the fibroid. 
If you have big fibroids, you may be given medication to shrink the fibroids a little before surgery to reduce the duration of the surgery.
You should talk to your gynecologist about whether any of your medications need to be discontinued before the procedure. 
"You may also have to undergo blood tests as part of a pre-anesthetic check up. During this consultation, you will meet anesthetists who will take a detailed history and ask about any reactions you may have to anesthesia."
Remember, you will have to fast for 6-8 hours before surgery.
What are the steps involved in a laparoscopic myomectomy?
Your gynecologist will make 3-4 incisions (half an inch in size) in the abdomen and insert laparoscopic instruments through them. The abdomen is then inflated with carbon dioxide to make space for the instruments to work inside the abdomen. 
Richa asked "How will the fibroid come out of such a small incision?"
"We make an incision on the uterus and peel out the fibroid through the small holes in the abdomen. Big fibroids are sliced into pieces using a specialized instrument called a morcellator and then removed."
The incision in the uterus is later stitched up using laparoscopic instruments.  
How long does it take to recover from laparoscopic myomectomy?
The advantage of a laparoscopic myomectomy over an open surgery is that you can go home walking the next day.
You will be able to recover from surgery within 2-3 weeks.
Reassured about a fast recovery, Richa wanted to know how soon she will be able to try for pregnancy after a laparoscopic myomectomy.
Trying for Pregnancy after Myomectomy
"Even though you may recover from the operation in less than a month, it is recommended to get pregnant about 3 to 6 months later since it takes this long for the stitches inside the uterus to heal."
After a thorough understanding of the procedure and discussion with her family, Richa decided to proceed with it.
The surgery went well and Richa was duly guided on wound care and steps to take after surgery.
Precautions after Laparoscopic Myomectomy
Avoid lifting heavy objects

as this will put pressure on your abdomen and uterus.

Continue light chores

such as walking, climbing stairs and cooking.

Keep an eye out for bleeding or fever

that lasts more than 3-4 days.
Richa wanted to know whether she should make any changes to her diet.
The doctor assured her that she could resume consuming the same foods as before surgery.
Laparoscopic myomectomy recovery story: Richa Chaudhary
In a follow up visit after three weeks, Richa seemed relieved. 
"I was dreading the surgery the minute it was advised! "
"It was only after the doctor took the time to explain and answer even my smallest queries that I gained the confidence to go ahead."
"I no longer feel the pressure in my pelvis and my periods seem lighter than before."
"Mentally, I'm in a better place, and ready to try conceiving when my body fully recovers in a few months' time."
This blog post has been written with editorial inputs from Dr. Priti Arora Dhamija, who has been practising for over 17 years and has a keen interest in fertility and reproductive health.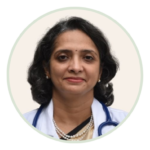 Medically Reviewed by Dr. Priti Arora Dhamija
MBBS, Maulana Azad Medical College, Delhi (1999); M.D, Lady Hardinge Medical College (2004); DNB Obstetrics & Gynecology (2004); Diploma in Pelvic Endoscopy, Kiel, Germany (2014)
Do check out our fertility services!
More Resources: