When Neeru Kalra and her husband, Ravi, found they were going to have a baby, they consulted our doctors for pregnancy tips in each of the nine months.
"I wanted to be extra cautious as this was my first baby. I decided to ask my doctor all my questions and be well-prepared for my pregnancy journey," said Neeru.
She consulted Dr. Namrita Gurpal Singh Sandhu , Consultant Obstetrician at Sitaram Bhartia Hospital, for the duration of her gestation period.
Here are some pregnancy tips for first-time moms like Neeru to keep in mind –
1 Month Pregnancy: Start Taking Folic Acid
Neeru was urged to start taking prenatal vitamins and supplements in her first check-up since she hadn't before.
"We strongly encourage consumption of folic acid before you conceive as well as during pregnancy," said Dr. Namrita Gurpal Singh Sandhu.
Folic acid is recommended for pregnant mothers as it lessens the risk of serious abnormalities in the brain and spinal cord.
Consult your doctor to find out whether you require additional supplements.
Neeru started experiencing nausea and loss of appetite in the second month of her pregnancy.
"I could not bear the smell of food. I didn't want my health to suffer because of my food aversion so I asked  Dr. Namrita Gurpal Singh Sandhu for advice," said Neeru.
Hormonal changes in your body can affect your eating habits so it is perfectly normal to experience these symptoms.
"Try to maintain a healthy and well-balanced pregnancy diet that includes bland food in order to alleviate symptoms like nausea."
"You can nibble on dry crackers if eating normal food makes you feel uneasy. Also eat smaller, more frequent meals for better control over morning sickness."
If, after these dietary changes, you are still experiencing excessive nausea or vomiting more than 2-3 times a day, then anti-nausea medication can be prescribed to you.
In her third month of pregnancy, Neeru's aversion to food and morning sickness started to fade. She, however, noticed tingling discomfort in her breasts.
"Your body undergoes hormonal changes in the first trimester that can lead to frequent mood swings, fatigue, back-pain or sensitive breasts," explained Dr. Namrita Gurpal Singh Sandhu.
Neeru was told not to worry as this is perfectly normal and to switch to more supportive bras that fit well as her breasts increase in size.
"This is one of the useful pregnancy tips as they shield from unnecessary friction."
As the second trimester began, Neeru started feeling better as she was adjusting to her bodily changes.
Neeru and Ravi wondered if they would be able to go for the trip they had been delaying.
"If you're up to it, there's no reason you shouldn't travel, especially if your pregnancy is progressing well" reassured  Dr. Namrita Gurpal Singh Sandhu.
Neeru was overjoyed when the doctor deemed her fit for travel.
Consult your doctor for precautions you should keep in mind while travelling in the second trimester.
"After the first trimester, fatigue and tiredness tend to lessen. But, as your baby grows, your body undergoes changes that may affect your sleeping habits."
When Neeru came in her for her check-up in the 5th month of gestation, she seemed tired and complained of backaches. She was advised not to lie flat on her back for too long.
"Some studies show that sleeping on your left side improves blood flow in your body and to the fetus. You can use pillows to elevate your head to prevent heartburn."
Try to remain stress-free and join a yoga or meditation class to practice relaxation techniques.
Neeru's back pain slowly started increasing as the months progressed. She was advised to make exercise a part of her daily life.
"It is normal to experience backaches during pregnancy. Regular back strengthening exercises can help ease back pains."
"Go daily for 30-40 minute walks to stay physically active and build stamina to deal with labour better."
However, as the pregnancy progresses, it is also important to note which antenatal exercises are safe for you and your baby.
Certain exercises depend on the mother's level of fitness before pregnancy as well.
7 Month Pregnancy: Manage Stress through Meditation
Neeru used exercise and meditation as a way to cope with day-to-day stress.
"While some stress during pregnancy is normal, it can have negative effects on you or your baby if it becomes constant."
Ravi was also encouraged to become an active part of the pregnancy by joining in on her daily walks and eating healthy with her.
"As the physical and emotional changes take a toll, ensure that your partner is well-rested during her pregnancy,"  Dr. Namrita Gurpal Singh Sandhu counselled Ravi.
Ravi decided to be a great source of support for his wife by creating a loving, stress-free environment at home.
Stretch marks start forming when the layer underneath the skin, called collagen, starts stretching and tearing as the belly grows.
"Stretch marks cannot be completely eliminated but you can lessen the marks by making sure your skin doesn't stay dry."
Creams and lotions from the market that may not always help are not one of the recommended pregnancy tips.
"Try out simple home remedies like lubricating your skin using coconut oil and drinking plenty of fluids to stay hydrated."
9 Month Pregnancy: Prepare For Labour And Delivery
As Neeru's delivery date crept nearer, she was encouraged to attend our series of antenatal classes with her husband.
"Learn about labour, delivery, infancy care and more in these classes by putting forward any questions and concerns to our maternity experts."
When Ravi and Neeru realized they would benefit from the questions other expecting couples would raise, they readily agreed to enroll in the antenatal classes.
Use our Hospital Bag Checklist to be labour – ready!
"I truly believe that these simple pregnancy tips helped me and my baby stay healthy," said Neeru.
"I was told at Sitaram Bhartia that my pregnancy is not a disease, just a normal life stage. This kind of positive thinking also helped me as I went on to have a safe labour and a normal delivery!"
About the Sitaram Bhartia Maternity Program: We give every woman the best chance of a normal delivery with skilled and unhurried support during labour.
Our consultants are experienced in providing care for even high-risk pregnancies including Gestational diabetes, high blood pressure, thyroid, IUGR, IVF, oligohydramnios and low-lying placenta.
Post delivery we encourage immediate breastfeeding of the baby and provide skilled lactation support for establishing successful breastfeeding.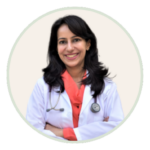 Medically Reviewed by Dr. Namrita Gurpal Singh Sandhu
MBBS, Government Medical College & Hospital, Chandigarh, India (2005) DNB, National Board of Examinations (2012), ­­­­MRCOG (Part One), Royal College of Obstetricians and Gynaecologists (2015), Diploma in Gynecological Laproscopy, Hysteroscopy and Urogynecology, Kiehls school, Germany (2019)
Experience: 10+ years
Meet our gynecologists at our hospital in South Delhi today! Please call on +91 9871001458 to schedule a consultation.
Liked this article? Follow us on Facebook, Twitter, Youtube and Instagram for more content!