Gauri Singh, a second-time mother, had been consulting a private gynaecologist in South Delhi but had stopped following up with her. When she came into Sitaram Bhartia for a check-up at 36 weeks, her doctor realised that she had last seen her doctor at 20 weeks and that she had missed a few important tests during pregnancy.
"I thought I was doing fine" Gauri said. "I've had a baby before and I was familiar with the process. So I thought I only needed to go in and see my doctor closer to when I was due." Gauri also reminded us that her grandmother had visited the doctor only twice during her own 3 pregnancies and managed to do just fine.
Timely Pregnancy Tests Reduce Complications
According to Dr. Priti Arora Dhamija, while it's perfectly true that pregnancy is a natural process and that most women will not need many tests during pregnancy, some are still necessary. "There are a few routine investigations that should be done in each trimester" she said. "If done at the right time, they can reduce your chances of complications and help you deliver your baby safely."

Tests During Pregnancy – First Trimester
"There are some blood tests during pregnancy that should be done in the first trimester. These check for for anaemia, thyroid dysfunction, diabetes, urinary infections and viral infections like Rubella, HIV, and Hepatitis B" says Dr. Priti. "If you have significant anaemia, we can give you iron supplements to build up your haemoglobin. This can prevent excessive bleeding from your uterus after delivery. Similarly, if viral infections are detected on blood tests, precautions can be taken to minimise the transmission to your baby."
An equally important investigation during the first trimester is the 12-week ultrasound and double-marker test which assesses the level of risk for Down's Syndrome. Although this condition is rare, it's the most common genetic abnormality found in babies.
Tests During Pregnancy – Second Trimester
In the second trimester, a level 2 ultrasound, recommended between 18-20 weeks, is an crucial investigation for checking if the baby's organs appear to be developing normally.
"I decided not to come in after my level 2 ultrasound because it came back normal" Gauri told us. "But what I didn't realise was that I had developed diabetes while I was pregnant."
Gauri ended up missing her glucose tolerance test, which we recommend between 24 to 28 weeks, to identify mothers who have developed gestational diabetes. We found high sugar levels in her blood when we finally tested her in the third trimester.
"I was put on a strict diet immediately" said Gauri. "I was also given a strict exercise regimen along with insulin to prevent any future complications for me or my baby."
According to Dr. Priti, "Gauri took a serious risk in deciding to not turn up for her routine check-ups. We barely had enough time to get her blood sugar stable and get her ready for her delivery."
Tests During Pregnancy – Third Trimester
Routinely, a repeat haemoglobin check is done in the third trimester, so we have another opportunity to identify anaemia. A urine test looks for proteins in the urine which may indicate high blood-pressure in the expectant mother.
Eventually, Gauri had to be induced at 38 weeks because of erratic blood sugar levels and she was lucky to have a normal delivery and a healthy baby. "I didn't know that my check-ups could reveal anything so serious. I can't tell you the relief I felt when I finally held my baby in my arms" she said.
Because of her experience, Gauri has turned into a champion of doing all the important tests during pregnancy and playing it safe. "As long as the tests are necessary, there's definitely a place for them" she admits. "If I had known better, I wouldn't have skipped my appointments at all."
This article has been written with inputs from Dr. Priti Arora Dhamija, who has over 17 years of experience as a Gynecologist.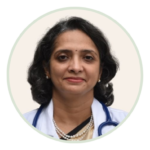 Medically Reviewed by Dr. Priti Arora Dhamija
MBBS, Maulana Azad Medical College, Delhi (1999); M.D, Lady Hardinge Medical College (2004); DNB Obstetrics & Gynecology (2004); Diploma in Pelvic Endoscopy, Kiel, Germany (2014)
Experience: 17 years
Seek expert advice from our expert gynaecologist. Please call on +91 9871001458 to schedule an appointment.
More Resources: 
Liked this article? Follow us on Facebook, Twitter, Youtube and Instagram for more content!