When she was 8 weeks into her pregnancy, Reema Shah realised that she had been spotting a little bit for a couple of days, and she called her doctor to ask why that was happening. "She told me to come in for a check-up and an ultrasound as soon as she heard I was bleeding so early in my pregnancy" says Reema.
According to Dr. Kusum Lata Bhardwaj, any occurrence of bleeding at any time during a pregnancy is a cause of alarm and should be attended to as soon as possible. "There are various reasons for bleeding to occur during a pregnancy and sometimes it may indicate a miscarriage" says Dr. Kusum Lata Bhardwaj. "So, if you do see yourself bleeding even a little bit, head to the hospital straight away."
In Reema's case, an ultrasound confirmed a live pregnancy with a small blood clot around the developing embryo, i.e. a threatened miscarriage. This is a condition where the uterus attempts to expel the embryo, but the full process has not begun yet.
"After my ultrasound confirmed the reason for my bleeding, I was asked to take it easy for a week while my condition improved" Reema said. "And I was prescribed medicines to help with my pain." Eventually, Reema's pregnancy progressed normally and she carried her baby to a full-term delivery.
Causes of Bleeding During Early Pregnancy
Some pregnancies don't survive past the first trimester. "Sometimes, a pregnancy does not develop well which leads to the formation of an unhealthy or abnormal embryo" Dr. Kusum Lata Bhardwaj explained. "In such a situation, nature steps in and ends the pregnancy on its own, which triggers the bleeding."
At other times, the bleeding could be due to a low-lying placenta. Most of the time, such low-lying placentas which may bleed during the early pregnancy, will migrate upwards with the growing uterus.
In rare cases, a pregnancy gets located in the fallopian tubes (ectopic pregnancy), which can also result in bleeding. "The only way an ectopic pregnancy can be detected is through an ultrasound and this can become a serious condition if it's not detected on time" says Dr. Kusum Lata Bhardwaj.
Whatever the cause might be for bleeding during early pregnancy (or even later), nothing can be done to prevent it from happening. But, timely management is paramount to avoid any risks to the mother. So, if you do find yourself bleeding during your early days, always report to your care provider.
This article has been written with inputs from Dr. Kusum Lata Bhardwaj, who has over 12 years of experience as a Gynecologist.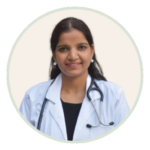 Medically Reviewed by Dr. Kusum Lata Bhardwaj
MBBS Panjab University, Chandigarh (2008); MD Panjab University, PGIMER, Chandigarh (2012); DNB National Board of Examinations (2013)
Experience: 10+ years
Interested in an appointment? Call us on  +91 9871001458!