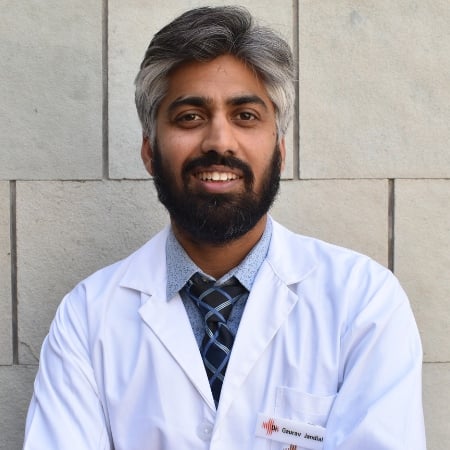 Dr. Gourav Jandial
Consultant, Pediatric Orthopedist
Dr. Gourav Jandial is a dedicated Pediatric Orthopaedist with rich experience in treating children with musculoskeletal (bone, joint, back, or muscle) problems.
His skills include treating limb and spine deformities (such as club foot, scoliosis), gait abnormalities (limping), joint infections and broken bones.
His expertise is particularly valuable because he treats bones that are still in the growth phase. From advanced training and experience, he takes care of children with surgical and medical prowess.
Degree:  M.B.B.S, Govt. Medical College, Jammu, J&K (2009); P.G. Diploma in Orthopaedics, Govt. Medical College, Jammu, J&K (2013); D.N.B. in Orthopaedics, Indian Spinal Injuries Centre, New Delhi (2015); Fellowship Paediatric Orthopaedics, Chacha Nehru Bal Chikitsalaya, New Delhi (2018); Asian Travelling Fellowship – Paedriatric Orthopaedics, Shiga Medical Centre, Moriyama, Japan (2019)
Experience: 5 years
Learn all about Pediatric Orthopedics here.
OPD Timings:
Friday: 03:00 pm – 04:00 pm
Consultation Fees: Rs 1600
For appointments please call us on 011 4211 1111.
Agarwal A, Madegowda A, Jandial G. Sprengel's deformity correction by vertical scapular osteotomy in pediatric age group: influence of rib cage abnormalities. International Orthopaedics: 2018; 42(9) 2191-97.
Agarwal A, Jandial G, Gupta N. Comparison of threee different methods of tibialis anterior tendon for relapsed Clubfoot: A pilot study. Jour Clin Orthop Trauma 2018.09.001
Agarwal A, Madegowda A, Jandial G. A legacy revisted: Needle Holders. J Surg Orthop Adv 2019; 28(2) 89-96
Jandial G, Dawar H, Raina D. Incidence and timing of dislocation after primary total/hemi/replacement arthroplasty at tertiary care orthopaedic institute published in journal of clinal orthopaedics and trauma. Jour Clin Orthop Trauma 2015; 6:81.
Agarwal A, Jandial G, Madegowda A, Gupta N. Bipolar release in congenital muscular torticollis: does attachments of sternocleidomastoid matter? (under review in Acta Orthopaedica et Traumatologica Turcica)
Founded an N.G.O. Life (Lakshya Is Fighting Emergency) in March 2008 which helps poor and needy people in emergency trauma.
Played active part in Pediatric Iodine Deficiency Disorder survey conducted under National Iodine Deficiency Disorder Control Programme in January 2010.
Played an active role as an organizer in International Conference of Spine ISCOS 2015.
Tips for Parenting and Child Care
Dengue symptoms in babies in Hindi |0-1 years|
Recent Reviews
Patient reviews for Dr Gourav
Dr Gaurav Jandial | Pediatric Orthopedist Overall rating: ★★★★★ 5 based on 1 reviews.
Anonymous
Great pediatric Orthopedic surgeon
★★★★★
"
Dr Gaurav Jandial is a very good and intelligent pediatric orthopedic surgeon. Caring, listen to the patients very carefully , gives proper time to their queries and also persists very good knowledge regarding his subject. Strongly recommended
"