After several attempts at conceiving, Vineetha (29) and Dhanush Prabhu (30) were disappointed. Their gynecologist suspected tubal factor infertility upon running investigations and referred them to Dr. Priti Arora Dhamija, Gynecologist & Fertility Expert at Sitaram Bhartia Hospital in South Delhi.
Having endured multiple disappointments in the last two years, Vineetha and Dhanush were on the verge of losing hope. Though they were desperately looking for a solution, they also wanted a doctor who could answer all their questions, concerns and doubts.
What is Tubal Factor Infertility?
Tubal factor infertility refers to a situation in which the sperm is unable to fertilize the egg in the fallopian tubes due to a blockage, scarring or narrowing of the tubes. 
Tubal factor infertility is the second most common cause ( 33.8%) of infertility as per studies. 
 What causes damage to fallopian tubes?
Fallopian tubes may get damaged due to conditions such as:
Pelvic inflammatory disease

Sexually transmitted infections like Chlamydia and Gonorhhea

Abdominal surgery

Prior ectopic pregnancies

Presence of hydrosalpinx (fluid in the tubes)
A large fibroid on the fundus of the uterus may also cause tubal blockage.
Read: Advised a Laparoscopic Myomectomy? Here's What to Know
When they met the doctor, they knew they had made the right choice. In the first instance itself, the nurse took their history in a detailed manner and the doctor listened patiently and asked relevant questions about their preconception attempts.
Upon further investigations, the suspicion of tubal factor infertility was confirmed and the doctor accordingly guided them on the next steps.
Based on the couple's history and answers to her questions, Dr. Priti determined that the damage to the tubes may have been due to sexually transmitted infections. 
Vineetha was curious to know why it hadn't been diagnosed earlier in her gynecological check ups.
Dr. Priti explained, "There are often no symptoms or way of knowing about the presence of blocked tubes unless a couple tries to conceive. That is when we run investigations to determine the causes behind not getting pregnant."
"Sometimes women may face prolonged pelvic pain which could indicate severely damaged blocked tubes."
How is Tubal factor infertility diagnosed?
Investigations performed to diagnose blocked tubes are:
Hysterosalpingogram (HSG)

– This is an x-ray in which a radio opaque dye is inserted using a catheter through the cervix into the uterus. The tubes are considered open if the dye comes out of the tubes. This tells us about tubal patency but not about tubal function which may be affected.



Sonosalpingography (SSG)

– This is an ultrasound that assesses the patency of the fallopian tubes and is similar to an HSG. Additionally, it can detect uterine problems. 
Hystero-salpingo-contrast sonography (HycoSy) –

This is also an ultrasound through which fluid containing bubbles are inserted into the uterus. The test assesses whether the fluid spills over to the ovaries indicating whether the tubes are open or not.



Diagnostic Laparoscopy-

This is the gold standard for determining fertility problems, in which a long thin instrument, called a laparoscope is inserted through a tiny incision below the belly button. The laparoscope is fitted with  a camera which allows the surgeon to view the pelvic organs and fallopian tubes and check for blockages, adhesions or

endometriosis

. 
The doctor explained that the functioning of atleast one of the fallopian tubes was essential for conception, as this is where the egg is fertilised by the sperm, and blocked tubes would hinder these chances. 
Worried, Vineetha asked, "How can I get pregnant if my tubes are damaged?"
"In order to help you get pregnant, we need to assess the reason for infertility," said Dr. Priti. 
In case we determine the cause to be pelvic inflammatory disease, antibiotics will be recommended. 
In situations where Tuberculosis is diagnosed, we suggest starting anti-tuberculosis treatment as soon as possible.
Read: Genital Tuberculosis: What It Means for You
If debris are posing problems in conception, an HSG can be done to flush them out.
Complications with blocked fallopian tubes
One of the main complications of partially blocked fallopian tubes is an ectopic pregnancy, which may result in a life-threatening situation if not removed in time.  
Apprehensive about treatment, Vineetha asked the doctor about any natural treatment for blocked fallopian tubes.
How can I clean my fallopian tubes naturally?
There is no scientific evidence that natural remedies open up fallopian tubes. 
Though other systems of medicine may suggest avoiding dairy or other food groups or the use of  warm water for unblocking fallopian tubes, in allopathy, there is little evidence for natural treatment for blocked fallopian tubes. 
However, since most tubes get blocked due to debris/adhesions formed from pelvic infections (sticky tubes), these may open or the debris may dissolve on their own with time and immunity. 
The doctor informed the couple of ways of getting pregnant with blocked fallopian tubes. 
Treatment for Fallopian Tube Blockage
Your fertility team will work with you to determine the best mode of treatment for your condition as this depends on factors such as 
Your age

Your ovarian reserves

Your partner's sperm count and health

Previous obstetric history (abortions, ectopic pregnancy etc)

Prior fertility outcomes

Your preferences 
Hysteroscopic Tubal cannulation is a procedure that may be offered to restore fertility. A thin wire is passed through the hysteroscope under laparoscopic guidance into the opening of the fallopian tubes at the point where it connects to the uterus, and used to remove debris and resulting blockage at the uterine ends. 
Laparoscopy surgery may be suggested depending on the extent and location of the blockage. Small blockages can be removed through laparoscopic surgery. If a certain section of the tubes are damaged, this section can be removed and the rest of the tubes can be joined together.  This is a very precise form of surgery. However, since the procedure risks damaging the hair-like thin cells within the tubes, In-vitro fertilization (IVF) is usually preferred as a method of conceiving. 
It may not be possible or advisable to remove blockages caused by big pieces of scar tissue or adhesions.
When infertility is caused by hydrosalpinx, a condition in which the tubes are distended with fluid, these can either be clipped or surgically removed. At times this needs to be done even before proceeding to IVF.
IVF is one of the best options wherein eggs and sperms are retrieved from both partners and fertilized under laboratory conditions, bypassing the blockage in the fallopian tubes.
"In fact, IVF was actually first used for patients who suffered from tubal factor infertility."
Read: 3 Things to Know for IVF Pregnancy: Procedure, Success Rate & Center Selection
The doctor counseled the couple carefully about the advantages and disadvantages of surgery to open up the tubes as compared to directly proceeding with IVF. 
Conclusion
Having gotten a clear picture of the road ahead, Vineetha and Dhanush eventually decided to proceed with IVF because they did not want to wait for recovery post laparoscopic surgery. 
They met other members of the fertility and maternity teams and were reassured to know that the hospital provided all their requirements under one roof.
"We got the confidence to go ahead when we found out that the team that was helping us conceive would be the same team that would help us during pregnancy and afterward. Since we had developed a certain comfort level with them, we didn't want to go through the entire process of choosing another hospital again, so that was a huge relief, " says Vineetha, now 8 months pregnant. 
"We are very happy with the way the doctor and her team arranged our visits and scans as per our convenience and with the way she took the pain to explain every aspect of the process. Our antenatal consultations are also going smoothly and we are looking forward to meeting our little one very soon!" completes an ecstatic Dhanush.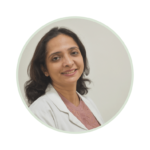 Medically Reviewed by Dr. Priti Arora Dhamija
MBBS, Maulana Azad Medical College, Delhi (1999); M.D, Lady Hardinge Medical College (2004); DNB Obstetrics & Gynecology (2004); Diploma in Pelvic Endoscopy, Kiel, Germany (2014)

Experience: 17 years
Dr. Priti leads the Fertility and IVF services at Sitaram Bhartia and is respected not only for her skills in counseling and managing a couple's preconception related concerns but also for her medical and surgical expertise.