Reena Sethia was 34 weeks pregnant when she came in for a routine check up.She had just found out that her  amniotic fluid index (AFI) was lower than 5. Concerned, she asked"How much AFI is required for a normal delivery?"
Dr Swati Sinha, Obstetrician-Gynecologist at Sitaram Bhartia in South Delhi sat her down and explained the concept of amniotic fluid index. , "During pregnancy, the foetus thrives in an 'amniotic sac' in the mother's womb. The sac is filled with a fluid, called amniotic fluid, which plays a role in the baby's development.  "
"Toward the last few months of pregnancy, it is normal for the amniotic fluid to decline. "
At times, ultrasounds in the third trimester may detect low AFI levels. 
"When the amniotic fluid index is less than 5 cms, the condition is called Oligohydramnios."
"First-time mothers often panic in case of low amniotic fluid index but this condition can be managed, " asserted Dr Swati.  
"Your condition will have to be monitored closely to assess the baby's growth and development." 
Reena began to feel hopeful about having a normal birth. She then asked about the ideal amniotic fluid levels in the (third trimester).
"How much AFI is required for a normal delivery?" 
 "There is no specific AFI level for a normal delivery. "
"Usually amniotic fluid index ranges between 5 to 25 cm."
"A lower AFI level does not necessarily indicate the need for a cesarean as long as your baby is growing well. "
If during labour, there are signs of high fetal distress, a cesarean may be recommended. 
"How much should AFI be at 34 weeks?" 
"Normal amniotic fluid index ranges from 880ml to 1 litre at around 34 weeks. There's a regular shift in the levels of amniotic fluid index (AFI) throughout your pregnancy but as soon as you enter your third trimester, the fluctuations in the AFI level increases." says Dr Swati. 
Intrigued by the variation in levels in each week, Reena wanted to learn about the calculation of the amniotic fluid index. 
"How is AFI calculated?" 
There are two major yet indirect ways of amniotic fluid index calculation, used by a sonographer to assess the AFI level, mostly during the third trimester of your pregnancy.
MVP (Maximum vertical pocket) is the more predective method in comparison to AFI (Amniotic fluid index).
Reassured that there was no specific answer to her question about how much afi is required for normal delivery, she sought to understand how to increase amniotic fluid.
How to increase AFI in pregnancy
"How to increase amniotic fluid depends on your condition, and may not be the same for every woman who has low amniotic fluid, " says Dr Swati. 
Some simple measures to take include
Drinking 10-12 glasses of fluid a day, which may help increase amniotic fluid levels 

Sleeping for atleast 8 hours a day, which also helps improve blood circulation

Being in touch and regularly following up with your gynecologist
"Don't hesitate to get a second opinion if you feel you need one. "
Reena made it a point to visit her gynecologist as advised, drink more water, coconut water and lemonade and rest enough to achieve almost normal afi levels at 37 weeks. With an amniotic fluid index of 6, she was able to have the normal birth she wanted.
Concerned about low amniotic fluid? Visit our gynecologists in South Delhi for a complimentary consultation!
This article has been written with editorial inputs from Dr. Swati Sinha, who has decades of experience as an Obstetrician-Gynecologist and has handled high-risk and low-risk pregnancies successfully. She is loved and appreciated by couples not only for her expertise but also for her optimistic and supportive nature.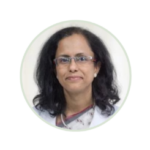 Dr. Swati Sinha, MBBS, Maulana Azad Medical College, New Delhi (1996); MD (Obstetrics & Gynaecology), Lady Hardinge Medical College, New Delhi (2001); MRCOG Part 1 (October 2010)
Please call on +91 9871001458 to schedule your free consultation.
Liked this article? Follow us on Facebook, Twitter, Youtube and Instagram for more content!