Kritika Garg, 32, conceived again two and a half years after the birth of her first child. Upon confirming her pregnancy, she scoured the internet for tips for normal delivery after cesarean. Determined to avoid the pain and discomfort after her cesarean, she spoke to family and friends to understand her chances of normal delivery after c section.
Is it possible to have a normal delivery after cesarean?
For most women, it is possible to have a normal delivery after cesarean. 
Kritika soon realized that though it wasn't a common practice amongst many hospitals in the Delhi region, there were a few that actively encouraged vaginal birth after cesarean (VBAC). The more she searched, the more she learned about Dr Rinku Sengupta, Consultant Obstetrician – Gynecologist at Sitaram Bhartia Hospital in South Delhi. 
Intrigued by Dr Rinku's passion and philosophy toward helping every woman try for a normal delivery unless medically contraindicated, she decided to visit the gynecologist.
"When I met Dr Rinku Sengupta for the first time and shared my hope for a VBAC,  she was very receptive, unlike other doctors I met elsewhere," recounted Kritika.
She continues, "I really liked the fact that Dr Rinku understood that I had concerns about my own abilities to give birth, the process itself and how it was all going to fall into place. "
Who Can Try for VBAC?
About 3 out of 4 women can try for a normal birth after c section. The criteria as per international guidelines include:           
no more than one previous cesarean,   

the reason for the first cesarean should not be expected to occur again,   

Absence of any major medical complication   
Many times women aren't recommended a Trial of Labour After Caesarean (TOLAC) because of a thin scar. 
"Scar thickness should not be a determinant as it is not related to risk of rupture," explained Dr Rinku.
The chances of requiring a repeat caesarean may increase, however, if the duration between deliveries is less than 18 months. Other factors that may increase the chances of a planned repeat cesarean are:
Age above 40 years

BMI greater than 40 or
Is it safe to have a VBAC after two c sections?
A cesarean is major surgery. Since the risks to the mother increase with every c section, some hospitals may have protocols that don't encourage a VBAC with two previous cesareans. 
Preparing for VBAC
Having eventually had a successful VBAC birth, Kritika admits it wasn't an easy journey. "Once my own doubts were cleared, I spent a lot of time convincing my family that VBAC is safe."
"I even brought my mother along for one of my consultations – and Dr Rinku actually encouraged me to do so!"
"I feel lucky that I was supported not only by a skilled doctor but also her entire team who physically and emotionally comforted me through labour."
"I feel obligated  to share all the tips for normal delivery after cesarean, so that it is easier for other women to have the birth they want." 
She goes on to answer some of the many apprehensions that women have.
How can I increase my chances of successful VBAC?
Locate a VBAC friendly hospital
The extent to which you can try for a normal birth after a cesarean depends a great deal on the hospital and the gynecologist you choose.
"When I started searching for the best VBAC hospital, I was keen to find VBAC hospitals near me."
"I know that many women – and sometimes men – fear what will happen if the baby pops out on the way to the hospital – but trust me, that doesn't happen!" she chuckles. 
You will take many hours to deliver from the time you begin feeling contractions to when the baby actually descends into the birth canal. 
"I couldn't find VBAC friendly doctors near me but I found one at a low-key VBAC hospital in Delhi, and it was definitely worth traveling the distance," said Kritika, who lives 30 kms away in Gurgaon.
2. Ask about VBAC success rates
If the hospital does indeed promote natural birth, and are pro VBAC, they should have data to show their VBAC success rates. 
"I was especially inclined to continue with Sitaram Bhartia Hospital when I found out they have an 84% VBAC success rate, " reveals Kritika.
3. Speak to VBAC moms who have delivered there
Women who have tried for a normal birth after cesarean are usually keen to help others in similar positions. They help you prepare better by explaining what to expect in the labour room and how you can endure labour pain since you may not have experienced it the first time. 
"I watched many video testimonials and then found some of these women on Facebook or asked my doctor to put me in touch with them, which gave me great insight."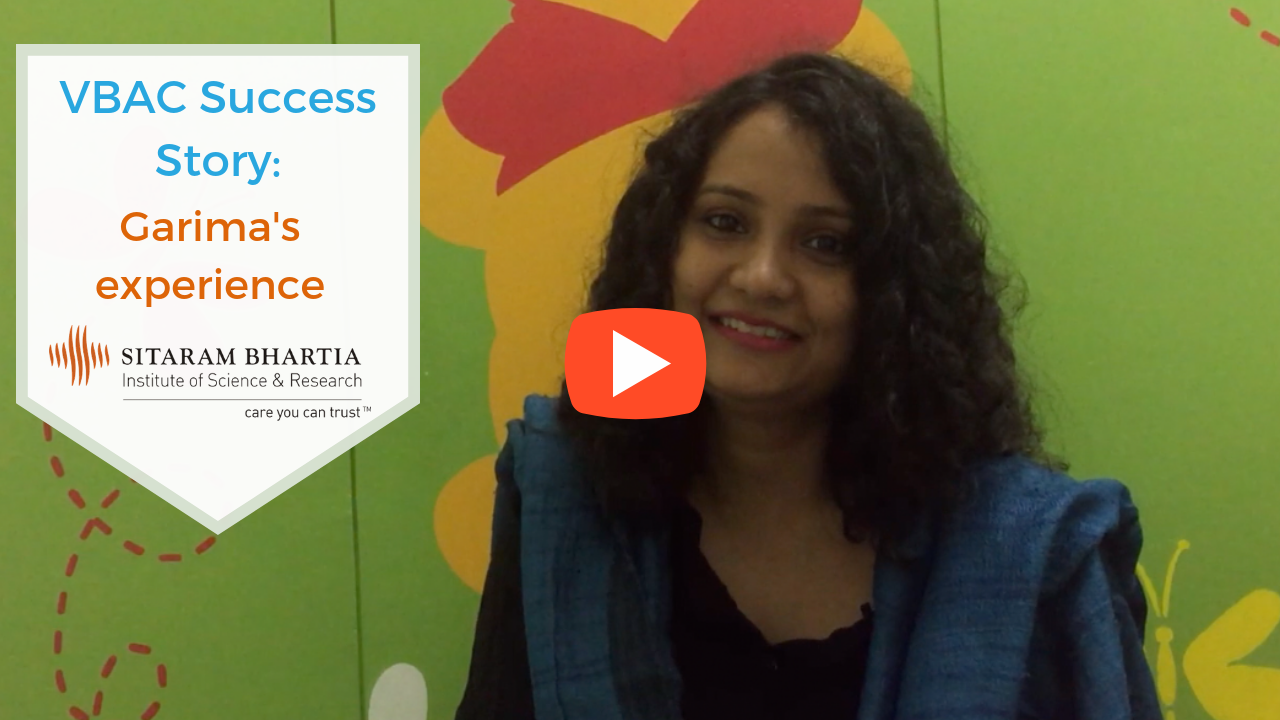 4. Attend Antenatal Classes for VBAC
Some hospitals may offer antenatal classes that include information specifically for women preparing for VBAC. Alternatively, you could also enquire whether your hospital conducts Lamaze classes. A Lamaze class is led by a Lamaze certified childbirth educator who counsels you (in a small group of 2-3 couples) about the process of birthing and helps rekindle faith in yourself to give birth naturally.  
5. Exercise daily and monitor your weight
Another tip for normal delivery after cesarean is to take out time to exercise. "I walked for about 45 minutes every day, and also did some exercises for normal delivery after c section as advised by my physiotherapist." 
You should include physical activity in your routine not just to build stamina but also to help control the weight you gain. 
Your pregnancy diet should include fibre rich foods, dairy and protein so that you eat the right kinds of foods instead of merely the recommended amount of calories. 
6. Stay motivated
"Whenever I felt low, I confided in my husband. The entire concept was new to him too, but he did his research and kept my spirits up by showing me statistics, testimonials or inspirational quotes."
"I also made it a point to read VBAC success stories in India to remind myself that if other women could do it, so could I." 
According to Dr Rinku, "The success of your TOLAC  is impacted by your morale. As doctors, we try our best, but we need you to equally participate by preparing well for labour. "
"You should want to have a VBAC and understand why you want it."
If you feel low, remember that a successful VBAC usually has fewer complications for your baby and you as compared to an elective cesarean.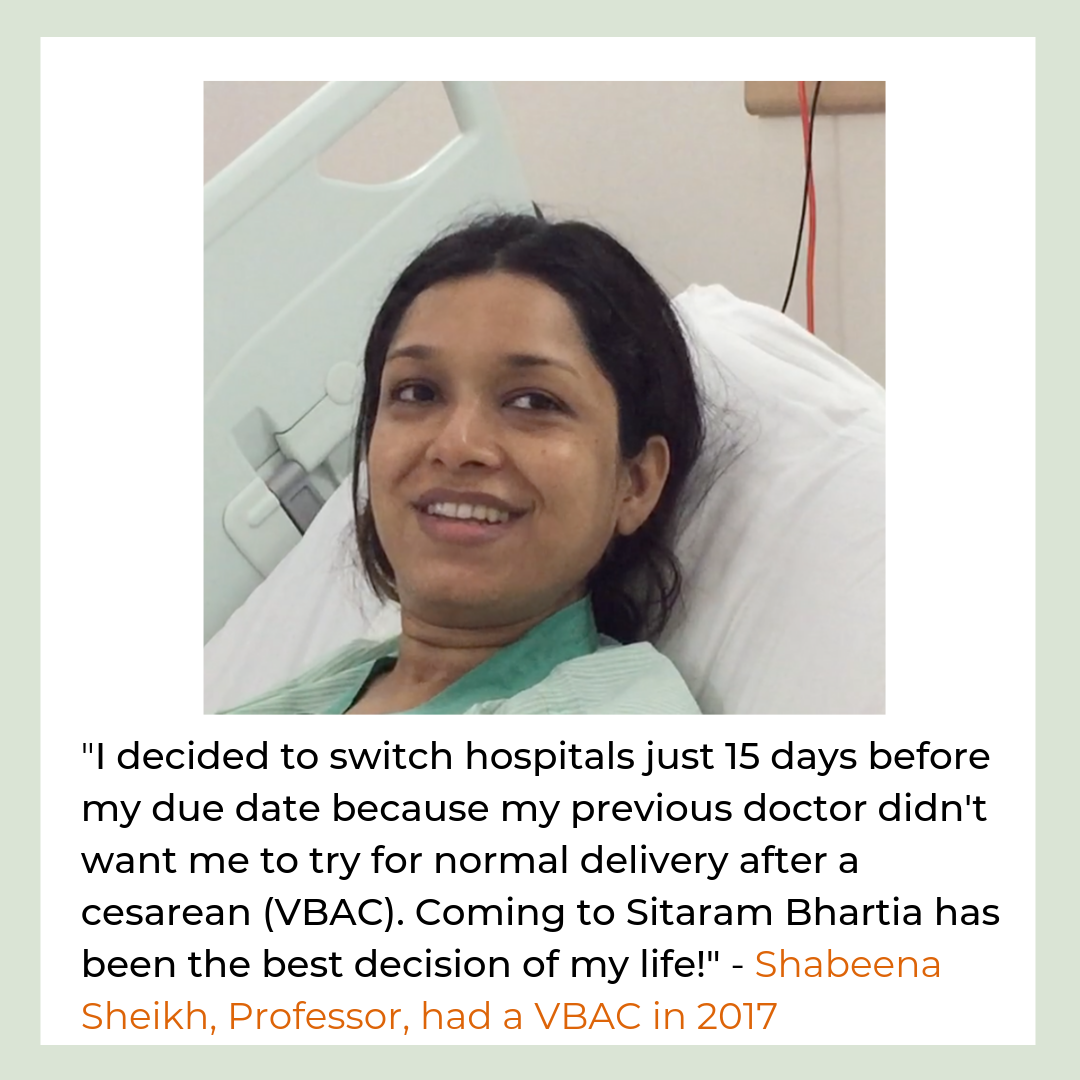 Benefits of VBAC
A normal delivery after c section has many benefits for both mother and baby.
Mothers with a VBAC have less pain after delivery. You can breastfeed right after birth and bond with your baby.

Recovery time is much shorter as compared to a cesarean, so you can look after  both your children sooner.      

You could also avoid potential risks associated with multiple cesareans such as hysterectomy or bowel injuries.     

Babies born by normal delivery may have a lower lifetime risk of asthma and diabetes.
When you consider the advantages of VBAC, you must also understand the risk involved.
What are the risks of natural birth after C section?
In most cases, VBAC is safe. In less than 1% of women, however, there is a risk that the scar from the previous cesarean may rupture. Such a situation can be safely managed with an  immediate cesarean, which is why a TOLAC should be attempted in a hospital that has anesthetists available round the clock and a well functioning operating theatre. 
Conclusion
When acting upon the tips for a normal delivery after a cesarean, keep in mind that your chances of a successful VBAC in India will be higher if you select a hospital that identifies with your thoughts and genuinely makes every effort to help you realize your dream. 
"I felt confident about my decision because of the continuous support I received from the pregnancy counselors, my gynecologist and the physiotherapist. They helped me remain optimistic. "
"Even in the labour room, when I nearly regretted opting for VBAC, there was a nurse who held my hand, gave me water from time to time, checked my baby's heartbeat and exercised with me to ease the pain. The gynecologist also looked me in the eye and reassured me that I could do it. Having that kind of a team, and a loved one by your side, can give you strength like nothing else can," signs off Kritika, smiling. 
This blog post has been written with editorial inputs from Dr Rinku Sengupta, Consultant and Head Maternity Program, who has over 24 years of experience. Dr Rinku is known for her expertise in vaginal birth after cesarean. She also actively conducts and participates in seminars for the medical community to improve awareness on how normal delivery after cesarean can be encouraged in a public and private setting.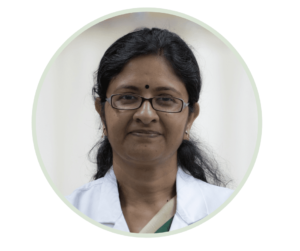 MBBS, Lady Hardinge Medical College, University of Delhi (1991); MD, Obstetrics & Gynaecology, University College of Medical Sciences, University of Delhi (1997)
If you're keen on learning more tips for a normal delivery after cesarean or want to understand your chances of a VBAC, don't hesitate to come in for a complimentary first consultation.
Please call on + 919871001458 to schedule a free consultation.