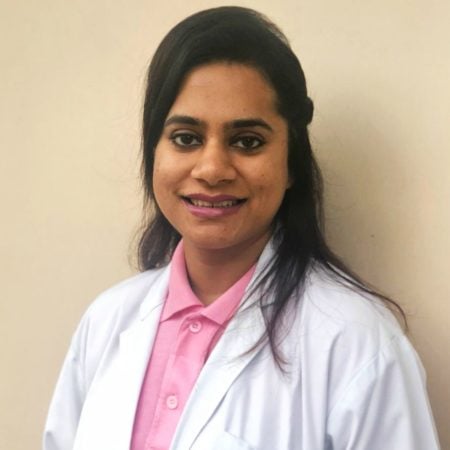 Dr. Anunaya Katiyar
Consultant, Pediatric Nephrology
Dr Anunaya Katiyar is a trained Pediatric Nephrologist who has a passion and dedication towards the field. Her expertise involves Nephrotic syndrome, Acute glomerulonephritis, Peritoneal and Hemodialysis.
Degree: MD (Pediatrics): VS Hospital Ahmedabad (2015); ISPN Fellowship: KEM Hospital Pune (2017)
Experience: 7 years
Specialisation: Pediatric Nephrology
Key skills:

Kidney Biopsies
Dialysis: Hemodialysis, Acute peritoneal dialysis, CAPD, SLED
Plasma Exchange
OPD Timings:
Thursday: 4:00 pm to 6:00 pm
Consultation fees: ₹1500
24x7 Pediatric Support Available for Emergencies
Feel free to walk into our emergency anytime to get assisted by a qualified pediatrician round the clock. Call us at 011 – 42111197.
Neonatal Meningitis in Neonatal Septicemia-CAN WE DO BETTER? National Journal of Medical Research, print ISSN: 2249 4995 | eISSN: 2277 8810, Edition Dec 2014
Jacobsen Syndrome: Are we informative enough? Pediatric Education and Research, Volume 4 Number 3, September – December 2016
Tips for Parenting and Child Care
Nephrotic Syndrome In Children – Early Treatment Is the Answer!
"Nephrotic syndrome in children presents as a group of symptoms that can indicate a kidney problem," said Dr. Anunaya. "It occurs mainly when your child's kidneys are leaking protein from the blood into the urine."
Recent Reviews
Patient reviews for Dr Anunaya
[RICH_REVIEWS_SNIPPET category="page"]
[RICH_REVIEWS_SHOW category="page" num="all"]