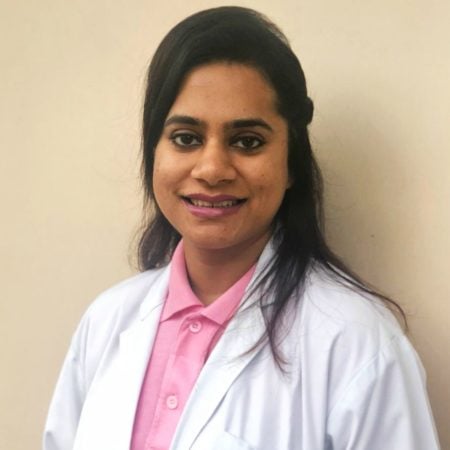 Dr. Anunaya Katiyar
Consultant, Pediatric Nephrology
Dr Anunaya Katiyar is a trained Pediatric Nephrologist who has a passion and dedication towards the field. Her expertise involves Nephrotic syndrome, Acute glomerulonephritis, Peritoneal and Hemodialysis.
Degree: MD (Pediatrics): VS Hospital Ahmedabad (2015); ISPN Fellowship: KEM Hospital Pune (2017)
Experience: 7 years
Specialisation: Pediatric Nephrology
Key skills:

Kidney Biopsies
Dialysis: Hemodialysis, Acute peritoneal dialysis, CAPD, SLED
Plasma Exchange
OPD Timings:
Tuesday: 01:00 pm – 03:00 pm
Consultation fees: ₹1600
For appointments please call us on 011 4211 1111.
24x7 Pediatric Support Available for Emergencies
Feel free to walk into our emergency anytime to get assisted by a qualified pediatrician round the clock. Call us at 011 – 42111197.
Neonatal Meningitis in Neonatal Septicemia-CAN WE DO BETTER? National Journal of Medical Research, print ISSN: 2249 4995 | eISSN: 2277 8810, Edition Dec 2014
Jacobsen Syndrome: Are we informative enough? Pediatric Education and Research, Volume 4 Number 3, September – December 2016
Recent Reviews
Patient reviews for Dr Anunaya
★★★★★

based on

6

reviews.
Overall rating:
Dr anunaya katiyar
★★★★☆
"
Excellent services by the doctor and their cordinators. Thank you.
"
★★★★★
"
Excellent services, doctor and coordinator.
"
★★★★★
"
had a great experience with doctor anunya.she is very patient in addition to being a great diagnostician.she took time with us and made us understand everyrhing clearly. All in all great. A special mention to the coardinators who made the whole process very smooth and easy for us.
"
9216745555
★★★★★
"
We thankfull for your excellent service.
"
Very Good
★★★★★
"
Dr. Anunaya Katiyar Pediatric Nephrologist I was looking for a child nephrology specialist in my area. Consulted Dr Anunaya Katiyar and we were very satisfied with the consultancy. Dr Anunaya's counselling and treatment approach was very satisfying. I will surely refer Dr Anunaya to my family and friends. Thanks.
"
★★★★★
"
I consulted Dr. Anunaya Katiyar for my kid in 1st week of March 19 and i was highly impressed with her counseling, diagnosis approach and treatment. Treatment responded very well and I am more than satisfied. Thanks to Doctor for good care.
"
Tips for Parenting and Child Care
Nephrotic Syndrome In Children – Early Treatment Is the Answer!
"Nephrotic syndrome in children presents as a group of symptoms that can indicate a kidney problem," said Dr. Anunaya. "It occurs mainly when your child's kidneys are leaking protein from the blood into the urine."
Does Your Child Feel Burning Sensation While Peeing? Could Signal Urine Infection in Kids!
Urine infection in kids, or UTI (Urinary Tract Infections), is a commonly occurring condition. If diagnosed properly and on time, it need not become a cause for concern. Any urine infection in kids occurring more than once, however, will need to be evaluated in detail by a pediatric nephrologist. This is known as recurrent UTI.