Frequent urine problems in females are common across all age groups. It could be brought upon by your lifestyle or by an ailment.
What is Frequency of Urination in Women?
Frequency of urination occurs when you pass urine more than 6-7 times a day. It may also be known as Nocturia or night-time frequency of urination, when you get up more than once or twice to pass urine.
There are many reasons for frequent urine problems in females.
Reasons for Frequent Urine Problems in Females
Urine Infection
The first thing that needs to be ruled out is urinary tract infection (UTI).
Read: Urine Infection: What, Why and How to Treat It
It is very common, with studies showing that more than 50-60% of women experience a urinary tract infection atleast once in their lifetime.
What is Urine Infection?
Normal urine is sterile, but when bacteria or organisms start to grow, that is when urine infection occurs.
If frequency of urination is happening suddenly – you know, you were alright two days ago, and now you are repeatedly going to the washroom, urine infection has to be ruled out.
Kidney or Bladder Stones
Kidney or bladder stones may cause frequency of urination.
Read: Is Your Frequent Urge to Urinate a Sign of Kidney Stone?
Pregnancy
Pregnant women may have frequent urination because the enlarged uterus is pressing down on the bladder.
Also Read: Elevated Pus Cells in Urine During Pregnancy: Reasons, Treatment & Home Remedies 
Menopause
Sometimes older women, or those in the menopausal age group may experience frequent urination. This is because levels of estrogen, which is a very important hormone, tend to decrease during menopause.
Estrogen helps maintain the blood flow around the pelvic area, and when that reduces, the tissues begin to thin and the bladder gets irritated easily, leading to frequent urine problems in females.
Lifestyle Habits
These days you keep hearing that you should drink plenty of fluids. But you need to know that your kidneys will filter out as much as you drink and more urine will be formed.
So women who drink more than 2.5-3 litres of water in a day will pass urine more frequently.
At times we get patients complaining of frequent urination, and a simple measure of curtailing their liquid intake – not restricting it but simply ensuring an adequate intake – resolves the problem.
 Diabetes
Diabetes could be another important cause. When there are high circulating blood sugar levels, sometimes to expel that sugar or to bring the homeostasis of the body, more urine is formed and is excreted by the kidneys.
Read: Diabetes in hindi – मधुमेह-सम्बंधित समस्याओं से कैसे जूँझें?
In some cases, the only symptoms of new onset Diabetes is increase in frequency of urination.
How can we treat frequent urine problems in females at home?
If it is a new onset of frequent urine problems in females, and there have been no lifestyle changes as such, urine infection is the first cause that needs to be ruled out.
For that, you need to give a urine sample for testing, for urine routine microscopy and urine culture, which is very important.
You should definitely not take antibiotics over the counter. Many times, people will buy antibiotics from the chemist and will start taking them on their own, without getting a urine culture done.
When you do that, sometimes recurrent urine infections may occur, inadequate treatment happens, and you may have had a problem that would have resolved by taking medication for 5-7 days now lingering on for months on end, so you should not self-medicate and instead, do consult a doctor.
Also Read: Get Rid of a Recurrent UTI: Here's What You Should Do!
You can take antibiotics only if advised by your doctor, because urine infection is just one cause, and there could be many other causes.
Treatment of Frequent Urination for Other Causes 
If you have a family history of Diabetes, or are overweight, and you have been experiencing frequent urination for some time, maybe you should get tested for diabetes.
If you have a family history of stones and are experiencing frequent urination, you may have to get tested for kidney or bladder stones. In some cases, you may also feel pain along with an urge to repeatedly pass urine.
Home Remedies for Frequent Urine Problems in Females
Optimizing your fluid intake 
When you come to us, we may ask you to make what is called a "bladder diary", which charts out how much fluid you are taking in, and how much urine you are passing.
At times the bladder becomes habitual to going and passing urine repeatedly. These women do well with re-training of the bladder, which can be done in collaboration with a gynecologist.
Cranberry Juice
Unsweetened cranberry juice may provide relief.
Probiotics
Certain probiotics like curd, kefir etc may also help.
Liquid Intake
People who drink less fluids and who have urine infections can benefit by drinking plenty of fluids, as this can help flush out the urine infection if it is there.
Otherwise if it is a problem that is not settling with home remedies, you must consult a gynecologist, who will examine you and understand your concerns.
If you are menopausal, you may need a thorough evaluation and maybe advised a hormone replacement, either as a cream for application or an oral medication.
Don't suffer in silence. Schedule your consultation with Dr. Namrita Gurpal Singh Sandhu Kaur today! Call us at +919871001458 to book your consultation.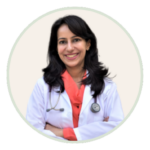 Medically Reviewed by Dr. Namrita Gurpal Singh Sandhu
MBBS, Government Medical College & Hospital, Chandigarh, India (2005) DNB, National Board of Examinations (2012), ­­­­MRCOG (Part One), Royal College of Obstetricians and Gynaecologists (2015), Diploma in Gynecological Laproscopy, Hysteroscopy and Urogynecology, Kiehls school, Germany (2019)
Experience: 10+ years
You May Also Like:
Liked this article? Follow us on Facebook, Twitter, Youtube and Instagram for more content!