Kriti Dutt, 27, panicked when she found out about a low lying placenta at 12 weeks. Unsure of what it meant, she searched online for answers to her questions. She decided to get a second opinion since her primary gynecologist was away. 
When she met Dr Priti Arora Dhamija, Consultant Obstetrician-Gynecologist at Sitaram Bhartia Hospital in Delhi, her concerns were immediately put to rest. 
"The placenta, which is an organ that supplies blood from the mother to the baby, is often found low in the uterus in early weeks – around 12, 13, 14 or 16 weeks of pregnancy," explained Dr Priti, in a calm tone.
Comforted by the doctor's willingness to explain the condition, Kriti voiced more apprehensions. 
Is it dangerous to have a low lying placenta?
A low lying placenta in the early weeks of pregnancy, up till 20 weeks, is typically not dangerous.   
Can a  low placenta move up?
"The placenta seems to move away from the cervix or move upwards as pregnancy progresses and the uterus expands in size, " said Dr Priti.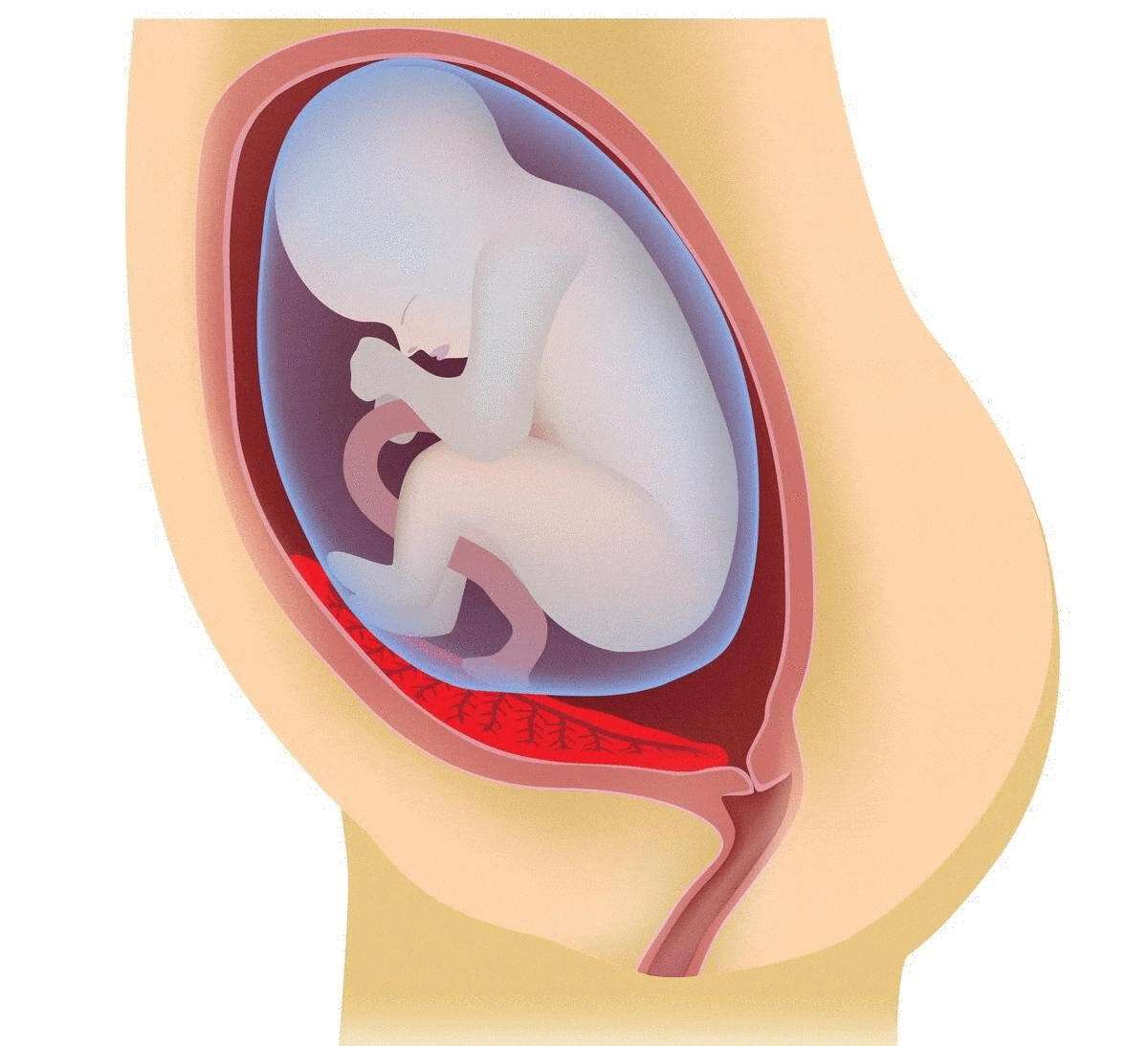 The animation above shows how the position of the placenta may shift.
What is the reason for low lying placenta?
It is not known what causes the placenta to lie low near the cervix, but with time, its position often shifts away from the opening of the uterus. 
Kriti seemed satisfied with all the information except for one lingering doubt. She asked, "What if I have a low lying placenta at 20 weeks and after that?"
"If you have a low lying placenta in your 18 to 20 week scan you will be advised another ultrasound at around 32 weeks to assess the position of the placenta in the third trimester, " reassured Dr Priti.
According to the Royal College of Obstetricians and Gynecologists (RCOG), the placenta moves up in 90% of women who have a  20 week scan showing a low lying placenta.
Low Lying Placenta in the Third Trimester (after 28 weeks)
If the placenta is seen to be in the lower part of the uterus in the third trimester, then the situation is known as 'Placenta Previa'.
Kriti was curious to know more about symptoms of Placenta Previa and risk factors of developing the condition. 
Signs of Placenta Previa
"Most mothers have no symptoms with Placenta Previa. A few may have painless bleeding. This may require you to be on bed rest, " said Dr Priti.
Chances of developing Placenta Previa
Your chances of having placenta previa may increase if you've had a previous cesarean. It is important, therefore, that a c-section delivery is conducted only when medically indicated. 
Other risk factors include:
Being older than 35 years

An abnormal shape of the uterus 
Read: C-Section Delivery: 9 Indications Where It May Be Avoidable
Complications Due to Low Lying Placenta in Third Trimester (Placenta Previa)
"Any major bleeding caused by the low lying placenta in the third trimester could pose a risk for both mother and baby. But mostly the bleeding is intermittent and small to moderate. "
"You must contact your gynecologist right away in case you experience any bleeding, contractions or pain," cautioned Dr Priti.
Types of Placenta Previa
If the placenta is covering the cervix, which is the mouth of the uterus from where the baby is delivered, the condition is called total placenta previa. In this case, a c-section will be required.
"However, even with placenta previa, if the placental edge does not reach the cervix, you can safely try for a normal delivery."
Kriti seemed relieved when she heard that a normal birth may be possible with a low placenta in the third trimester, depending on the placenta position during pregnancy.
She had imagined giving birth normally, and wanted to do everything possible to realise her dream of having a natural birth supported by her husband.
Low Lying Placenta treatment
In most cases, the placenta moves upwards on its own as the uterus increases in size, and there is no other treatment for a low placenta that is needed.
"A low lying placenta may not always result in 'Placenta Previa', and so you shouldn't get confused between the two situations, " clarified Dr Priti.
By now Kriti understood that she didn't have a reason to worry but she was keen to know dos and don'ts with low lying placenta, to ensure she had the best chance at a normal delivery.
Low Lying Placenta Precautions
Precautions for low lying placenta at 14 – 20 weeks are required only in a few cases. You could 
avoid sexual intercourse

Stay on bed rest if you have had bleeding

Eat foods rich in iron to reduce the risk of

anaemia during pregnancy
"Are there any specific sleeping positions for low lying placenta?" Kriti couldn't stop herself from asking another question.
"There aren't any particular sleeping positions that would help move the placenta up naturally," says Dr Priti.
"Stay positive. Don't let worry cloud your mind and try to  enjoy your pregnancy!"  
Encouraged by her detailed consultation, Kriti decided to continue with the doctor whose thoughts and approach toward a normal birth matched her own.  She eventually went on to nomally deliver a healthy baby girl. 
The majority of women who have a low lying placenta in the second trimester go on to have a normal delivery without any complications at Sitaram Bhartia.
Hear from Shilpa Newati, one such mother, who came to us at 32 weeks with a low lying placenta and a breech baby for a second opinion on her condition.
"Despite a low lying placenta and a breech baby, I was able to have a normal delivery at Sitaram Bhartia, even though gynecologists at another hospital told me I had a 99% chance of a caesarean."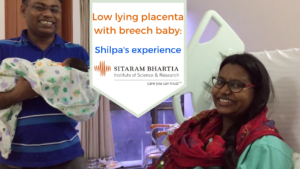 If you are unsure about your situation, it is better to consult a gynecologist. Schedule a free consultation with a senior gynecologist at our hospital in South Delhi.
Please call on +91 9871001458 to schedule a free consultation.
This blog has been written with editorial inputs from Dr. Priti Arora Dhamija. She is an Obstetrician-Gynecologist with over 15 years+ experience, who is known among couples for being a patient listener!