Purvi Agarwal had recently entered her third trimester. One Sunday as she was making her way up to the terrace of her building, her mother-in-law came and stopped her. 
"She told me to take the elevator instead of climbing stairs during pregnancy!" said an amused Purvi. 
"I didn't want to upset her and so I complied and took the elevator up."
"I know the older generation is set in their ways, which is why I decided to take her along to my next consultation. I wanted her to meet my gynecologist and get clarity on these age old myths."
Is it safe to climb stairs during the 3rd trimester of pregnancy?
Yes.  As long as your pregnancy is progressing smoothly and there are no complications, you may climb stairs throughout pregnancy. 
Surprised, Purvi's mother-in-law questioned the practice.
"Climbing stairs during pregnancy poses no harm to the mother or child as long as the expecting woman climbs slowly and holds the railing to steady herself. If she feels dizzy at any point or if the flight of stairs is long and winding, she could stop climbing or avoid the stairs altogether," explains Dr. Anita Sabherwal Anand, Consultant Obstetrician-Gynecologist at Sitaram Bhartia Hospital. 
The doctor further explained, "We encourage pregnant women to exercise as much as possible to build the strength they need to manage labour.  Our specially trained physiotherapists teach women pregnancy exercises that can be done safely and help the baby descend down the birth canal.
Exercise not only prevents women from gaining excess weight but also keeps them happy because of the endorphins released during the process. From that perspective, climbing stairs during pregnancy  can be viewed as a form of physical activity that women needn't refrain from."
Related: Precautions during Pregnancy: Facts vs Myths
That said, there are a few precautions women can take while climbing stairs during pregnancy.
Walk confidently but avoid wet or broken stairs

Wear shoes and clothes that fit properly rather than loose, flowing clothes

Don't use the staircase if you see children running up and down

Never be in a hurry while climbing stairs
Slowly taking in the doctor's words, Purvi's mother-in-law asked another question. 
Does climbing stairs help with normal delivery?
Regularly climbing stairs during pregnancy benefits expecting women by keeping them active, and improving blood circulation. A physically fit woman who has been exercising daily (in addition to climbing stairs) all through pregnancy is better equipped to handle the stress and physical exertion brought on by labour and delivery.
"We don't suggest climbing stairs for the sole purpose of a normal delivery because how you give birth depends to a large extent on the support provided by your doctor."
How many steps can a pregnant woman walk?
Studies suggest that pregnant women can walk a minimum of 6000 steps a day, especially if they have gestational diabetes. Light physical activity such as walking or exercising as advised by your physiotherapist uses up glucose and helps control blood sugar levels.  
Sensing her mother-in-law's thoughts, Purvi quickly asked whether she should be mindful of anything during pregnancy. 
What activities should I avoid while pregnant?
You can avoid intense workouts, especially if you've never done them before pregnancy. You can avoid lifting weights and other strenuous activities such as trekking or diving. 
Make sure to stop whatever you are doing if you feel pain or difficulty breathing. 
Pregnant women who experience bleeding in pregnancy, have a low-lying placenta, blood pressure issues/ preeclampsia or a history of miscarriages may be advised bed rest and should avoid physical activity in pregnancy. 
With the explanations and information given by the doctor, Purvi's mother-in-law finally seemed to be at ease.
Thereon, she became Purvi's most ardent supporter and accompanied her on her daily walks in the park and strolls on the terrace. She even took up the role of Purvi's birthing partner in labour. 
"Now she goes around proudly boasting about how I gave birth to my daughter while bouncing on the birthing ball!" chuckles Purvi.
Conclusion
Clearing common misconceptions, Dr Anita reiterates, "Climbing stairs does not affect your chance of conceiving and is safe even during IVF pregnancy."
"If you experience abdominal pain after climbing stairs during pregnancy, it is most likely not because of the stairs but if it persists, it is better to consult your doctor."
There is a lot of misinformation around climbing stairs during the first few weeks as well as when you're 36 or 39 weeks pregnant, which is why it's important to have an honest discussion with your doctor.
Come in for a consultation  Please Chat with us on WhatsApp to schedule an appointment.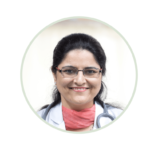 Medically Reviewed by Dr. Anita Sabherwal Anand, MBBS, MD, DNB
You May Like to Read: