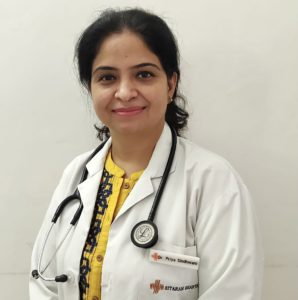 Dr. Priya Sindhwani
Obstetrics and Gynecology
Dr. Priya Sindhwani is a specialist in Obstetrics and Gynecology with vast knowledge of high risk Obstetrics and handling complicated Gynecology cases. She has worked as a Senior Clinical Associate with PD Hinduja National Hospital & Research Centre, Mumbai where she was a core team member for operative gynecological procedures, laparoscopic surgeries and gyne-oncology.
Degree: MS (Master in Surgery) Obst & Gynae from JJM Medical College, Davangere (2009), MBBS, Dr. B R Ambedkar Medical College & Hospital, Bangalore (2005)
Experience: 10+ years
Key skills:
Natural Birth
High Risk Obstetrics
NDVH (Non Descent Vaginal Hysterectomy)
OPD Timings:
Monday 11:00 am – 01:00pm
Wednesday 08:00 am – 02:00pm
Saturday 02:00 pm – 05:00 pm
Consultation Fees: Rs 1100
For appointments please call us on 011 4211 1111.
Invited as a faculty in CMEs and AOGD Pre-Conference Workshop, 2018
ISPE Abstracts grader and have graded international abstracts for Annual ISPE Conference 2012, 2013 & 2015.
Recent Reviews
Patient reviews for Dr Priya Sindhwani
Dr. Priya Sindhwani Overall rating: ☆☆☆☆☆ 0 based on 0 reviews.
Anonymous