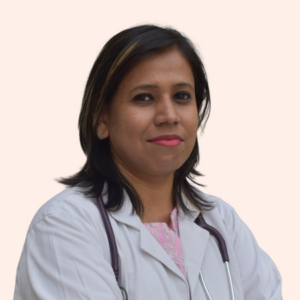 Dr. Nikita Kumari
Obstetrics and Gynecology
Dr. Nikita is a highly trained specialist in the field of Obstetrics and Gynecology. She has managed a wide variety of cases including complicated cases related to pregnancy and gynecology.
Due to her experience with the Infertility Department at Safdarjung Hospital she has sound knowledge of Infertility treatment including ovulation induction protocol with USG follicular monitoring, semen preparation and intra‐uterine insemination. She has done WHI Endoscopic Training Programme at AIIMS, New Delhi and is well trained to perform both diagnostic and operative hysteroscopy and laparoscopy procedures.
Degree: MBBS, Patliputra Medical College and Hospital, Dhanbad (2008), DNB, VMMC & Safdarjung Hospital, New Delhi (2013), MRCOG – 2 (Royal College of Obstetricians & Gynecologists, London), Fellowship in Minimal Access Surgery (2020)
Experience: 8 years
Areas of interest:
High risk pregnancy with focus on vaginal delivery
Preconceptional counselling and Infertility management
Minimally invasive surgery
Learn more about Fertility services at Sitaram Bhartia
OPD Timings:
Tuesday: 5:00 pm- 7:00 pm
Thursday: 9:00 am-11:00 am
Friday: 10:00 am- 2:00 pm
Saturday: 2:00 pm- 5:00 pm

Consultation Fees: Rs 1100
For appointments please call us on 011 4211 1111.
"Comparison of oral and injectable vitamin D on Bone Mineral Density in Peri and Postmenopausal Women with Hypovitaminosis D" in World Journal of Pharmacy and Pharmaceutical Sciences, Vol 4, Issue 11, 2015.
"Menopause: But Where's the Pause" in Medcrave, Obstet Gynecol Int J, Vol 3, Issue 3, 2015.
"Ovarian fibrothecoma – a diagnostic dilemma." Obstet Gynecol Int J. 2019;10(3):207‒209. DOI: 10.15406/ogij.2019.10.00445.
"Heart Disease in Pregnancy-Evaluation of Spectrum, Association of Predictors with Obstetric Outcome and Need for Comprehensive Medical Care" in Journal of Clinical and Diagnostic Research, 2018.
"Review of Maternal Mortality at a Tertiary Care Hospital: What Have we Achieved?." in Journal of obstetrics and gynaecology of India vol. 69,2 (2019): 149-154. doi:10.1007/s13224-018-1129-1.
"Effect of a Locally Tailored Clinical Pathway Tool on VBAC Outcomes in a Private Hospital in India." J Obstet Gynecol India (2021). https://doi.org/10.1007/s13224-021-01446-5.
Winner of Best Paper (2nd Prize) published in FOGSI journal during 2021 in Junior Category for the paper 'Effect of a Locally Tailored Clinical Pathway Tool on VBAC Outcomes in a Private Hospital in India'
International Society of Ultrasound in Obstetrics and Gynecology
Recent Reviews
Patient reviews for Dr. Nikita Kumari
Dr. Nikita Kumari Overall rating: ★★★★★ 5 based on 1 reviews.
Anonymous