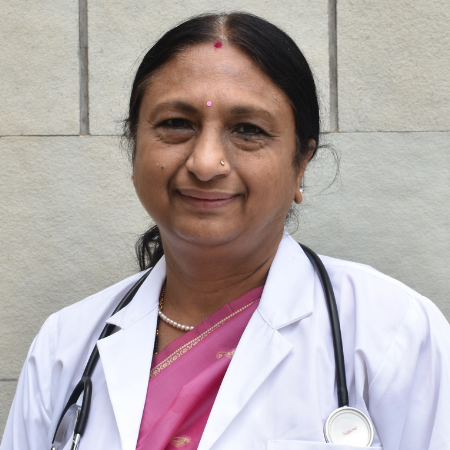 Dr. Rita Arun Mhaskar
Obstetrician – Gynecologist & Endoscopic Surgeon
Dr. Rita Arun Mhaskar, obstetrician-gynecologist & endoscopic surgeon, ex-AIIMS (1978 and 1982), exudes a certain warmth when you meet her for the first time. Despite her many achievements, she is down to earth and approachable. 
She has decades of experience as a faculty and HOD, Obstetrics & Gynecology at St John's medical college. She began performing laparoscopic surgery ever since it was first introduced to the world in 1995. 
Dr. Rita chose to specialize in minimally invasive (endoscopic and laparoscopic) surgery simply because she is passionate about it. The smile that she sees on her patient's face post recovery makes it all worthwhile.
One of her most recent feats involves performing a laparoscopically assisted hysterectomy on an elderly woman who was on a heart-lung machine, immediately after a coronary bypass, within 45 minutes.
Over her 40 year long career, a major portion of which was spent in Bangalore, she has performed over 3000 laparoscopic surgeries including but not limited to hysterectomies, myomectomies and cystectomies. 
She is one of the few doctors in India who consults and treats people born with intersex variations. 
She recently shifted back to New Delhi, where she was born, raised and schooled.
Degree: MBBS, All India Institute of Medical Sciences, Delhi (1978); MD (Obstetrics & Gynecology) All India Institute of Medical Sciences, Delhi (1982); D.N.B.E. National Board of Exams, National Academy of Medical Sciences, New Delhi (1986); FRCOG, Royal College of Obstetricians & Gynaecologists, UK; FRS (Robotic Surgery), World Association of Laparoscopic Surgeons (2012)
Experience: 40 years
Specializations include:
Gyne endoscopic surgery
Complicated gynecological surgeries surgeries such as vaginoplasty, VVF repair, genitoplasty
Total laparoscopic hysterectomy (TLH)
Laparoscopic myomectomies, Laparoscopic ovarian cystectomy etc
Management and treatment of Endometriosis
OPD Timings
Monday 02:00 pm – 04:00 pm
Tuesday 11:00 am – 01:00 pm
Wednesday 02:00 pm – 04:00 pm
Thursday 11:00 am – 01:00 pm
Friday 02:00 pm – 04:00 pm
Saturday 11:00 am – 01:00 pm
Consultation Fees
Rs. 1500
Recent Reviews
Patient reviews for Dr. Rita Arun Mhaskar
☆☆☆☆☆

based on

0

reviews.
Overall rating:
Dr. Rita Arun Mhaskar | Obstetrician-Gynecologist & Endoscopic Surgeon Overall rating: ☆☆☆☆☆ 0 based on 0 reviews.
Anonymous