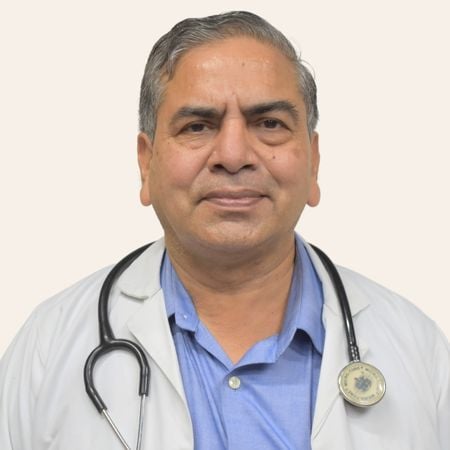 Dr. Sunesh Kumar
Senior Consultant, Gynae Oncology
Dr. Sunesh Kumar I Senior Gynae Oncologist
Dr. Kumar, former HOD, Obstetrics & Gynecology at AIIMS & ex-President, Association of Obstetricians and Gynecologists of Delhi (AOGD), has rich clinical and academic experience. Over the course of his 40+ year long career, he has successfully handled 10,000+ complicated gyne-oncological surgeries and trained hundreds of obstetrician-gynecologists.
He established the M.Ch. Gynecological Oncology course at AIIMS and has served as the Editor of  Shaw's Textbook of Gynecology, used by gynecologists all over the country!
Dr. Kumar has published over 372 research papers in International and National Journals and is well-respected among the medical fraternity.
Despite all his accomplishments, he remains down to earth, soft-spoken and compassionate.
Degree: MBBS, Delhi University (1978) ; MD, Obst. & Gynae, AIIMS (1981)
Experience: 40+ years
Area of Interest:
Fertility Sparing Surgery in Gynae Oncology
Germ Cell Tumours of Ovary
OPD Timings
Monday 09:00 am – 01:00 pm
Wednesday 09:00 am – 01:00 pm
Friday 09:00 am – 01:00 pm
Consultation Fees
Rs. 1500
Dr. Sunesh Kumar Overall rating: ☆☆☆☆☆ 0 based on 0 reviews.
Anonymous