Two decades ago, late motherhood may have been a rarity but not anymore. Trying for pregnancy after 30 is slowly becoming more common in India.
Dr Priti A. Dhamija, obstetrician-gynecologist at Sitaram Bhartia Hospital explains, "These days many couples are choosing to conceive when both of them are mentally and financially ready for the responsibility."
Shalini Khurana, 36 and her husband, Tejas Khurana aged 37 felt that they were finally ready for kids. They had decided to avoid pregnancy till they were both well established in their careers.
Now that they were mentally ready, they started trying to conceive. After one negative pregnancy test result, they grew anxious and decided to reach out to Dr Priti on recommendation of a close friend.
During their appointment with the doctor, they shared their failed attempt at conception.
Shalini asked the doctor whether it was possible for her to conceive naturally, given her age.
Which age is best to get pregnant?
Dr Priti answered, "Biologically the best age to get pregnant still remains between 20-35 years. Women in their early 30s may be able to conceive more easily as compared to women in their late 30s."
"Those beyond 35 may require additional guidance or assistance for conception but yes, it is possible for women your age to conceive."
Shalini and Tejas enquired about their chances to conceive naturally.
What are the chances of getting pregnant after 30?
Dr Priti answered, "It may be possible for you to conceive naturally but we generally advise couples above 35 years to try for six months. If you are unable to conceive naturally within that period, you should consult a gynecologist."
According to RCOG, woman aged 30 have 75% chances to conceive naturally within a year but this percentage reduces to 66% for women aged 35.
"Women are born with a limited number of eggs which sharply decline in quality and quantity once they reach their mid to late 30s."
"A man's fertility also declines with age but not as drastically as a woman's fertility."
Women aged 35 or beyond may be at a higher risk of developing complications which may cause problems for them or the fetus.
Increasing age also increases the risk of disorders like endometriosis or fibroids which may adversely affect the woman's fertility.
Relieved to know that it may be possible for them to conceive naturally, the couple wanted to know for how long they should try.
How long does it take to get pregnant after 30?
"You will be advised to try for 6 months but if there are any known ailments or signs of infertility, you may be suggested fertility treatments before 6 months itself."
"To determine the need of such treatments, you may be advised a few blood tests and sperm analysis for an infertility evaluation."
Based on the test results, you maybe suggested fertility enhancing treatments that are best suited to you such as:  
Taking stock of the situation, Tejas enquired about any possible risks of pregnancy after 30.
Is pregnancy after 35 dangerous?
Dr Priti answers, "Pregnancy after 30 isn't dangerous but it may come with few risks and complications for women in their late 30s."
"Adverse pregnancy outcomes rise with age as remaining eggs are more likely to have abnormal chromosomes. This raises chances of having a baby with chromosomal abnormalities like Down's syndrome."
According to ACOG, the risk of having Down's syndrome is 1 in 1,480 at age 20, 1 in 940 at age 30 and 1 in 353 at age 35 years which increases dramatically to 1 in 85 at 40 years of age.
"With age, common pre-existing conditions like high blood pressure, diabetes may increase risk of developing pre-eclampsia or  gestational diabetes during pregnancy."   
"Any complications in your pregnancy can, however, be managed by early identification and treatment and a commitment to a healthy diet and exercise schedule."
"It is also more likely for you to have multiple pregnancies after 35 i.e. being pregnant with twins, triplets or more along with low birth weight and premature birth."
Complications like placenta previa are also more probable in pregnancy after 35. These conditions may increase the possibility of complications leading to cesarean delivery.
Shalini and Pankaj were aware that pregnancy after early 30s won't be a breeze but the knowledge and guidance gathered from Dr Priti gave them the reassurance and hope to keep trying.
They both asked her, "How to prepare our body for pregnancy after 30?
Getting pregnant after 30: How to prepare your body for pregnancy after 30?
You could adopt the following lifestyle changes to boost your fertility:
If you have any known ailments like high blood pressure, diabetes, treat them with the right medications
Begin exercising regularly and continue doing it despite the outcomes
Curb intake of junk food to maintain a healthy weight
Begin taking folic acid
Limit alcohol consumption and to quit smoking
Destress by doing yoga or indulging in your hobbies
Adopt a positive approach and try to remain optimistic despite the odds
Besides incorporating these lifestyle changes, you should also keep these tips for getting pregnant after 30:
Know your fertility window:
Dr Priti explained, "The best time to conceive is when you are ovulating, which is known as fertility window. If you have a 28-day cycle then day 10-18 may be your fertile period."
The fertility period for each woman may differ though.
Have any doubts about your ovulation cycle? Get expert advice today.
Pelvic disorder treatment:
If the partners especially, the male partner has any pelvic disorder or any childhood trauma like mumps, injury in the pelvic area or such, it is always best to seek treatment before trying.
After taking notes of the lifestyle changes, the couple felt more confident and decisive about the journey ahead. They walked out of the OPD with a reproductive plan which gave them both a sense of direction.
Shalini and Pankaj's pregnancy success story
When Shalini and Pankaj were unsuccessful in getting pregnant after a few more tries, they decided to consider means of assisted conception instead of becoming discouraged.
Their infertility evaluation revealed they may be suitable candidates for IUI.
After 2 cycles of IUI performed by Dr Priti in the hospital itself, the couple was able to conceive.
Shalini, currently 6 months pregnant, expressed her happiness and excitement over her pregnancy as she waited for her maternity consultation with Dr Priti.
She says, "I remember how people used to taunt me for delaying pregnancy."
"When we were unable to conceive after our first attempt, all the harsh words and pieces of advice started ringing in my head again. A part of me was afraid that we wouldn't ever be able to conceive."
"But all my fears and doubts about getting pregnant after 30 evaporated after we began consulting here. "
"It was slightly more difficult in late 30's but I am glad my husband and I were able to traverse this journey with optimism and confidence."
Pregnancy after 30: Risks and Benefits
Pregnancy after 30 especially after 35 has it's own risks and benefits.
Pregnancy after 30: Benefits
Stability:
Dr Priti notes, "In my obervation, couples are more stable in their relationship along with well-established careers and financial stability. This reduces much stress and anxiety about the arrival of a new one."

Experienced:
The couple has grown as individuals and as a couple which makes them more experienced and wiser.
She continues, "Another possibility is that it could be a second pregnancy after 30 which also allows them to be more experienced with childcare. They won't have the same anxiety and inexperience as they had when they were new parents. They are now able to tackle situations much better."
Support group:
A couple who is trying to conceive after 30 would have similar-age people around them with similar experiences. This gives them an outlet as well as a support group to talk to with whom they can share their experiences.
Pregnancy after 30 complications:
Delay in conception:
There is a certain possibility that women who are aged 30 and above may find it difficult to conceive.
Higher risk of developing complications:
Women getting pregnant after 35, may be more prone to complications arising during pregnancy.

If you want to wait to get pregnant, what should you do?
Dr Priti ends with saying, "If a couple wants to wait to get pregnant, they may consider sperm and egg freezing. The freezing may aid in conception at a later age."
"Whenever a woman chooses to start a family is her choice, but one should be aware of the implications that come with pregnancy at a later age."
Learn more about Fertility Services at Sitaram Bhartia
This article has been written with inputs from Dr. Priti Arora Dhamija, who has over 16 years of experience as a fertility specialist and obstetrician-gynecologist. She has received training from the Indian Fertility Society in Assisted Reproductive Technologies and fertility enhancing laparoscopy.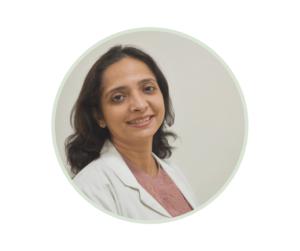 Dr. Priti Arora Dhamija, MBBS, Maulana Azad Medical College, Delhi (1999); M.D, Lady Hardinge Medical College (2004); DNB Obstetrics & Gynecology (2004); Diploma in Pelvic Endoscopy, Kiel, Germany (2014)
Come in for a complimentary consultation with Dr. Priti. Please call on +919871001458 to schedule a free consultation.