"There's a common perception that thyroid during pregnancy is a huge problem" says Dr. Priti Arora Dhamija. "But this is nothing to be afraid of. With the right treatment, thyroid problems during pregnancy can easily be brought under control."
1. Thyroid During Pregnancy: Hypothyroidism
In India, approximately 1 in every 10 women suffer from thyroid problems. "Because thyroid issues are so common, we check the Thyroid Stimulating Hormone (TSH) levels for all women during their pregnancy as early as possible," says Dr. Priti.
Most women with thyroid disease are diagnosed with hypothyroidism – in which case the gland doesn't produce enough thyroid hormone. Symptoms of hypothyroidism include irregular periods and difficulty with getting pregnant.  
पढ़े : Thyroid in pregnancy in hindi : प्रेगनेंसी के दौरान थायराइड में क्या करें?
A milder form of thyroid during pregnancy is mild or subclinical hypothyroidism. In this condition, the symptoms of thyroid imbalance may not be visible, but the TSH levels during pregnancy are too high and need treatment.
"Subclinical hypothyroidism should also be treated for women planning a pregnancy," says Dr. Priti.
"Ideally, thyroid treatment should begin before conception; but it should definitely be addressed in early pregnancy to avoid complications."
"If left untreated, thyroid disorders can interfere with your baby's cognitive development. In rare cases, untreated thyroid issues can lead to preterm labour, gestational hypertension, or even miscarriage."
Want to know how to manage your thyroid during pregnancy? Speak to consult a gynecologist about it. Schedule a free consultation with a senior gynecologist at our hospital in South Delhi.
Please call on +91 9871001458 to schedule appointment.
2. Thyroid During Pregnancy: Hyperthyroidism
Hyperthyroidism, on the other hand, is a condition in which the gland is overactive and produces too much of the thyroid hormone.
"Hyperthyroidism in pregnancy is much less prevalent and is treated with anti-thyroid tablets. " Dr.Priti said.
"If left uncontrolled, in rare cases Hyperthyroidism in pregnancy can put you at a higher risk for preterm labour, preeclampsia, and miscarriage."
3. Treatment for Thyroid During Pregnancy
"In case of hypothyroidism, TSH levels can be restored to the normal range by taking thyroid supplements every morning. " says Dr Priti.
The target TSH level during pregnancy, as recommended by the American Thyroid Association, is 0.3-3.0 mIU/L but note that your laboratory or doctor might use a slightly different range.
"Make sure your TSH levels are monitored and checked every six weeks throughout the pregnancy. "
"As long as the TSH levels during pregnancy are under control, there's no reason to worry."  asserts Dr Priti.
This article has been written with inputs from Dr. Priti Arora Dhamija, who has over 16 years of experience as a fertility specialist and obstetrician-gynecologist. She has received training from the Indian Fertility Society in Assisted Reproductive Technologies and fertility enhancing laparoscopy.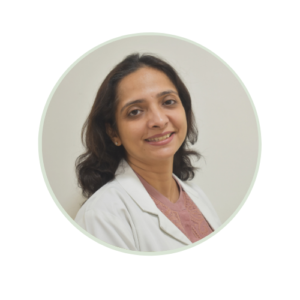 Dr. Priti Arora Dhamija, MBBS, Maulana Azad Medical College, Delhi (1999); M.D, Lady Hardinge Medical College (2004); DNB Obstetrics & Gynecology (2004); Diploma in Pelvic Endoscopy, Kiel, Germany (2014)