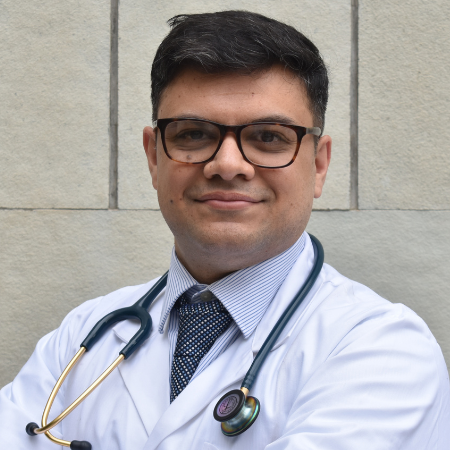 Dr. Nikhil Ganjoo
Consultant, Paediatrics and Neonatology
Dr. Nikhil Ganjoo is a paediatrician with neonatal expertise gained in the UK. Following MBBS from Bangalore, he has completed his postgraduate training in Paediatrics with MRCPCH (UK) and was awarded FRCPCH (UK) in 2018.
His interests in Neonatology range from antenatal counseling for families, leading to ventilation and care of preterm & term babies. Dr. Ganjoo has also received training in Medical Education and Genomic Medicine in which he has keen interest.
Degree: MBBS, Rajiv Gandhi University of Health Sciences, Bangalore, India (2006); MRCPCH, RCPCH London, UK (2013); Generic Instructors Course (NLS) National Resuscitation Council, UK (2014); Postgraduate Certificate in Medical Education University of Bedfordshire, UK (2015); SPIN- Neonatology/ Fellowship Certified Special Interest Module, RCPCH, UK (2018); FRCPCH, RCPCH, London,UK (2018); CCT in Paediatrics, UK (2018); Paediatric Epilepsy Training Level 1-3 British Paediatric Neurology Association, UK (2019); Foundation Programme for Clinical Educators University of Cambridge, UK (2019); Post Graduate Certificate in Genomic Medicine Imperial College- London, UK (2021)
Experience: 9 years
Specializations include:
Neonatology Ventilation
Neonatology Resuscitation
Genomic Medicine
Leadership and Management- QI
OPD Timings
Monday, Wednesday: 3:00 pm to 7:00 pm
Tuesday, Friday and Saturday: 10:00 am to 12:00 pm
Thursday: 12:00 pm to 2:00 pm
Consultation Fees
Rs. 1200
Dr. Nikhil Ganjoo | Pediatrician and Neonatologist Overall rating: ☆☆☆☆☆ 0 based on 0 reviews.
Anonymous