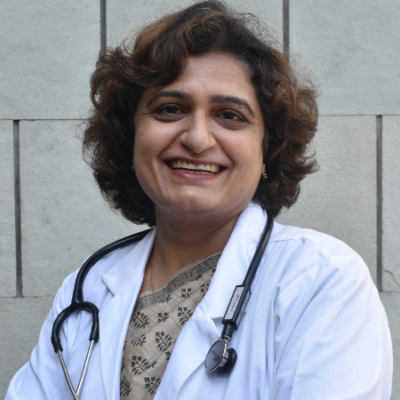 Dr. Payal Chaudhary
Obstetrician-Gynaecologist
Dr. Payal Chaudhary is a trusted senior consultant with training at one of Delhi's leading medical colleges and observer fellowship experience in USA. 
She has a strong focus on:
Natural birthing,

Minimally-invasive surgery (keyhole surgery) and

Urogynaecology
Her compassion and warm nature instills in women and their families much needed confidence every step of the way.
Degree:
MBBS, Lady Hardinge Medical College, New Delhi (2000)
MD Lady Hardinge Medical College, New Delhi (2005)
Observership Minimally-Invasive Surgery, Magee Women Hospital, Pittsburgh
Experience: 16 years
Consultation Fees                                                                                
₹1200
OPD Timings
Wednesday: 09:30 am – 04:00 pm
Friday: 09:30 am – 04:00 pm
Saturday: 02:00 pm – 06:00 pm
For appointments please call us on 011 4211 1111.
★★★★★

based on

5

reviews.
Overall rating:
Wonderful Doctor
★★★★★
"
Dr. Payal Chaudhary is an amazing doctor well as a wonderful person. Very patience while listening the queries and accordingly she clear all my doubts. As it was my first delivery she has helped in every manner which she can and finally when The Day came where I was suffering from pain in the labour room, I have lost all my hope of normal delivery as I could not bear the much pain but she was the one who did not loose hope and said "hoga hoga sabse hota hai tumse bhi hoga". Due to the pain I have said to doctor to do my C section but Dr. Payal and her team has tried her level best to get the child delivered normally on 25-feb-19. The baby was very well and was handed over to me immediately after birth. Due to normal delivery I recovered very fast also the method or the way suggest by Sitaram doc's team. Thanks Dr. Payal for positive wibes to me I am sure without you this wont be possible.
"
Wonderful Doctor, highly recommended
★★★★★
"
Dr. Payal Chaudhary is not just an amazing doctor but a wonderful person. She is really very patient while listening all the queries and satisfactorily answer all doubts. She encourages a lot for a successful normal delivery. Attended her workshop as well and found them very helpful. She is very soft spoken and has a personal touch in her treatment. Highly recommended .......
"
Very supportive and pleasant to talk to
★★★★★
"
I have been consulting Dr. Payal chaudary since my pre conception time. I like her easy on medication approach and she is always patient with numerous questions which me and husband has. Thank you.
"
Friendly and Smiley
★★★★★
"
It was a very good experience meeting her and on the first day she appeared very positive and assuring. Her pleasant smile and considerate nature with the patience to listen to her patient is worth praising. I wish I had come to her earlier during my pregnancy.
"
Pre- pregnancy consultation
★★★★★
"
Dr. Payal is very friendly and very positive doctor I had ever met. She very patientlyexplains the cause and remedial cure of very problem. She is very supportive and available every time to require help. I would highlu recommend her.
"
Dr Payal's Content Library for Women and their Families
Dr Payal strongly believes that expecting women should be as informed as possible about pregnancy, childbirth and other aspects of gynecology. Click on the images below to read articles written with her inputs.