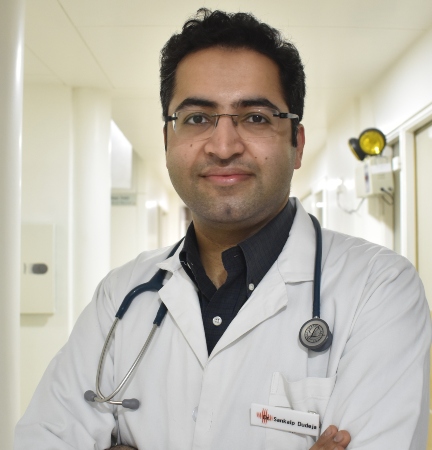 Dr. Sankalp Dudeja
Neonatologist
Dr Sankalp Dudeja is a neonatologist who aims to provide the best medical care for newborn infants especially, the ill or premature children. He is an All-India Rank 1 holder for AIIMS entrance test 2006.
Degree: MBBS, AIIMS, New Delhi (2011); MD Pediatrics, Lady Hardinge Medical College and associated Kalawati Saran Children's Hospital, New Delhi (2015); DM Neonatology, Post Graduate Institute of Medical Education & Research (PGIMER), Chandigarh
Experience: 6 years
Specialisation: Neonatology
Key skills:

Quality improvement
Neonatal ventilation
Functional Echocardiography
OPD Timings:
Monday: 01:00 pm – 04:00 pm
Tuesday: 10:00 am – 03:00 pm
Thursday: 10:00 am – 01:00 pm
Friday: 01:00 pm – 03:00 pm
Saturday: 10:00 am – 01:00 pm
Consultation fees: ₹1200
For appointments please call us on 011 4211 1111.
24x7 Pediatric Support Available for Emergencies
Feel free to walk into our emergency anytime to get assisted by a qualified pediatrician round the clock.
Improving first hour breast feeding initiation rates after cesarean deliveries in a tertiary care hospital: A Quality Improvement study. Dudeja S, Sikka P, Jain K, Suri V, Kumar P. Indian Pediatr
Reactive oxygen species measurement in neat and washed semen: comparative analysis and its significance in male infertility assessment. Venkatesh S, Shamshi MB, Dudeja S, Kumar R, Dada R. Archives of Gynecology and Obstetrics. Jan 2011.283(1): 121-6
Dhirar N, Dudeja S, Khandekar J, Bachani D. Childhood Morbidity and Mortality in India – Analysis of National Family Health Survey 4 (NFHS-4) Findings. Indian Pediatr 2018;55:1-5
Dudeja S, Dhirar N. Defensive medicine: Sword of Damocles. Nat Med J Ind. (Under issue preparation).
Dhirar N, Dudeja S, Kumar R. Upward trend of cesarean sections in India: Incision over precision. Nat Med J Ind. (Under issue preparation).
Krishnamurthy B, Pattanaik S, Dudeja S, Dutta S. Persistent muscle twitching with phenobarbitone in a preterm neonate: Lack of response or manifestation of toxicity? BMJ Case Reports (Under Review).
Dudeja S, Dutta S. Re: Antenatal corticosteroids for maturity of term or near term fetuses: systematic review and meta-analysis of randomized controlled trials. BMJ 2016;355:5044.
Kumar J, Dudeja S, Debata P, Khurana S, Aradhya A, S Venkatseshan. Implementation of an automated oxygen control system – Are we ready? ADC Fetal and Neonatal edition. April 2017.
Dudeja S, Bandyopadhyay T. Gastric lavage in infants born with Meconium Stained Amniotic Fluid: Few concerns. Indian Pediatrics
Dudeja S, Bandyopadhyay T. Pain control interventions in preterm neonates: Few concerns. Indian Pediatrics
Awarded NNF Social Neonatology Gold medal in Neocon-2017, Gurugram
Research project done at AIIMS awarded Kishore Vaigyanik Protsahan Yojna (KVPY) Scholarship- the highest scholarship given by the Government of India. The scholarship was conducted jointly by Indian Council of Medical Research (ICMR) & Indian Institute of Science (IISC) and awarded to only 5 students from all over the country.
Awarded Institute 'Gold Medal for the Best Undergraduate' in Pathology & Ophthalmology
Won the National round of '23rd IAP Paediatrics quiz for under-graduates' held at Pedicon- 2011, Jaipur. (The event comprised of four stages which included intra-college, state, zonal and national round)
Won Intra-college round of '27th IAP Paediatrics quiz for post-graduates' in 2014. Secured 3rd position in the Inter-college state round of the same.
Secured 1st position 'Inter-college Fortis Medillectuals quiz' held during 37th Annual South Asian Socio-cultural, literary and sports meet- Pulse-2011
Secured 3rd position in quiz competition in Medigencon, 2013 at Maulana Azad Medical College, New Delhi
Tips for Parenting and Child Care
Recent Reviews
Patient reviews for Dr Sankalp
★★★★★

based on

13

reviews.
Overall rating:
Very Humble
★★★★★
"
Dr Sankalp is true professional, He is very humble with his patient and friendly & caring with neonates and kids. He is best doctor for kids.
"
Best Doctor For My Kid!
★★★★★
"
We believe only on Dr Sankalp for our 6 month old son. He never prescribes unnecessary medicine. Took our call on sunday
"
Dr. Sankalp
★★★★★
"
Very helpful, took our call at 1am when our daughter was sick.
"
True Professional
★★★★★
"
Dr Sankalp is so humble and nice and professional at the same time. Best doctor I have ever met. He Always give true advice.
"
Dr. Sankalp
★★★★★
"
He is the best doctor.He prescribes what is important and no extra medicines.I trust him with my child that is why I come from Dehradun.
"
★★★★★
"
We really appreciate having him as our baby's doctor. His patient and pleasant disposition has been very calming for us, as first time parents. We look forward to consulting with him in the future as well.
"
★★★★★
"
Dr sankalp has been very courteous with us and discusses things at its length and breadth before administering any treatment/medicines. His knowledge is impeccable and his way of explaining things can make anyone understand the subtle nuances of treatment. Also, the opd coordinators make the whole experience smooth and glitch free.
"
★★★★★
"
Your service is absolutely excellent to the people and to the nation too. Dr. Sankalp Dudeja is an excellent doctor for the children/infant he handles new borns with ultimate care and love. Always have a smiling face. The service of coordinators at gyne and pediatric departments are too good.
"
★★★★★
"
Dr sankalp is very approachable and responsive to all our questions with lot of patience. Explains in detail.
"
★★★★★
"
Dr Sankalp is very patient and clear all our doubts. He is very supportive. I would recommend him to all new parents.
"
★★★★★
"
Dr sankalp is very appreciable and responsive to all our questions with lot of patience, explains in detail. The child health education in great we gained a lot from the child care workshop.
"