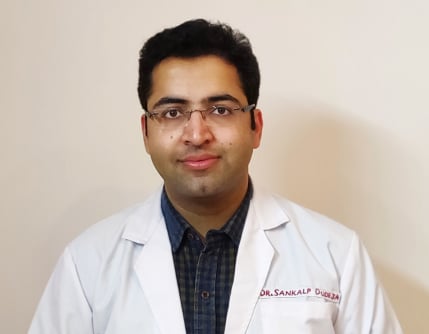 Dr. Sankalp Dudeja
Neonatologist
Dr Sankalp Dudeja is a neonatologist who aims to provide the best medical care for newborn infants especially, the ill or premature children. He is an All-India Rank 1 holder for AIIMS entrance test 2006.
Degree: MBBS, AIIMS, New Delhi (2011); MD Pediatrics, Lady Hardinge Medical College and associated Kalawati Saran Children's Hospital, New Delhi (2015); DM Neonatology, Post Graduate Institute of Medical Education & Research (PGIMER), Chandigarh
Experience: 6 years
Specialisation: Neonatology
Key skills:

Quality improvement
Neonatal ventilation
Functional Echocardiography
OPD Timings:
Monday: 12:00 pm – 3:00 pm
Wednesday: 12:00 pm – 2:00 pm
Tuesday: 1:00 pm – 4:00 pm
Thursday: 12:00 pm – 3:00 pm
Friday: 12:00 pm – 3:00 pm
Saturday: 2:00 pm – 4:00 pm
Consultation fees: ₹1000
24x7 Pediatric Support Available for Emergencies
Feel free to walk into our emergency anytime to get assisted by a qualified pediatrician round the clock. Call us at 011 – 42111197.
Improving first hour breast feeding initiation rates after cesarean deliveries in a tertiary care hospital: A Quality Improvement study. Dudeja S, Sikka P, Jain K, Suri V, Kumar P. Indian Pediatr
Reactive oxygen species measurement in neat and washed semen: comparative analysis and its significance in male infertility assessment. Venkatesh S, Shamshi MB, Dudeja S, Kumar R, Dada R. Archives of Gynecology and Obstetrics. Jan 2011.283(1): 121-6
Dhirar N, Dudeja S, Khandekar J, Bachani D. Childhood Morbidity and Mortality in India – Analysis of National Family Health Survey 4 (NFHS-4) Findings. Indian Pediatr 2018;55:1-5
Dudeja S, Dhirar N. Defensive medicine: Sword of Damocles. Nat Med J Ind. (Under issue preparation).
Dhirar N, Dudeja S, Kumar R. Upward trend of cesarean sections in India: Incision over precision. Nat Med J Ind. (Under issue preparation).
Krishnamurthy B, Pattanaik S, Dudeja S, Dutta S. Persistent muscle twitching with phenobarbitone in a preterm neonate: Lack of response or manifestation of toxicity? BMJ Case Reports (Under Review).
Dudeja S, Dutta S. Re: Antenatal corticosteroids for maturity of term or near term fetuses: systematic review and meta-analysis of randomized controlled trials. BMJ 2016;355:5044.
Kumar J, Dudeja S, Debata P, Khurana S, Aradhya A, S Venkatseshan. Implementation of an automated oxygen control system – Are we ready? ADC Fetal and Neonatal edition. April 2017.
Dudeja S, Bandyopadhyay T. Gastric lavage in infants born with Meconium Stained Amniotic Fluid: Few concerns. Indian Pediatrics
Dudeja S, Bandyopadhyay T. Pain control interventions in preterm neonates: Few concerns. Indian Pediatrics
Awarded NNF Social Neonatology Gold medal in Neocon-2017, Gurugram
Research project done at AIIMS awarded Kishore Vaigyanik Protsahan Yojna (KVPY) Scholarship- the highest scholarship given by the Government of India. The scholarship was conducted jointly by Indian Council of Medical Research (ICMR) & Indian Institute of Science (IISC) and awarded to only 5 students from all over the country.
Awarded Institute 'Gold Medal for the Best Undergraduate' in Pathology & Ophthalmology
Won the National round of '23rd IAP Paediatrics quiz for under-graduates' held at Pedicon- 2011, Jaipur. (The event comprised of four stages which included intra-college, state, zonal and national round)
Won Intra-college round of '27th IAP Paediatrics quiz for post-graduates' in 2014. Secured 3rd position in the Inter-college state round of the same.
Secured 1st position 'Inter-college Fortis Medillectuals quiz' held during 37th Annual South Asian Socio-cultural, literary and sports meet- Pulse-2011
Secured 3rd position in quiz competition in Medigencon, 2013 at Maulana Azad Medical College, New Delhi
Tips for Parenting and Child Care
Recent Reviews
Patient reviews for Dr Sankalp
★★★★★
"
Dr sankalp is very approachable and responsive to all our questions with lot of patience. Explains in detail.
"
★★★★★
"
Dr Sankalp is very patient and clear all our doubts. He is very supportive. I would recommend him to all new parents.
"