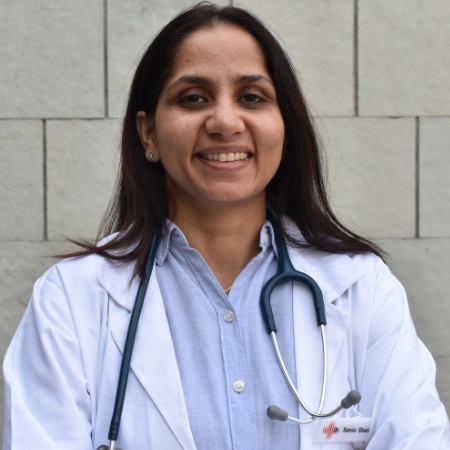 Dr. Sonia Sharma
Visiting Consultant, Paediatric Nephrology
Degrees: MBBS (MLB Medical College, Jhansi, 1999-2005), DCH (SN Medical college, Agra, 2006-2008), F-ISPN, F-IPNA (AIIMS, New Delhi) (2011-2013) (Clinical & research training in Pediatric Nephrology 2011-2013), Renal Fellow (Observership) Great Ormond Street Hospital, London, UK.
Key Skills:
Hemodialysis
Peritoneal dialysis, CRRT
Kidney biopsy
USG Guided central / HD line insertion
Kidney transplantation
Plasma exchange
All acute and chronic kidney disease
OPD Timings
Monday: 10:00 am to 1:00 pm
Wednesday: 3:00 pm to 5:00 pm
Friday: 3:00 pm to 5:00 pm
Consultation Fees
Rs. 1600
Please call 011 4211 1111 to schedule your appointment.
Extending initial prednisolone treatment in a randomized control trial from 3 to 6 months did not significantly influence the course of illness in children with steroid-sensitive nephrotic syndrome. Kidney International. Volume 87, Issue 1, Pages 217-224 (January 2015) DOI: 10.1038/ki.2014.240.
Comprehensive clinical approach to renal tubular acidosis. ClinExpNephrol. 2015 Aug;19(4):556-61. doi: 10.1007/s10157-015-1119-x. Epub 2015 May 9.
Experience with Continuous Renal Replacement Therapy. Indian J Pediatr. 2015Aug;82(8):752-4. doi: 10.1007/s12098-015-1743-1.
Kulkarni Unusual presentation of mucormycosis. Indian Journal of Transplantation 10 (2016) 52–54.
Do We Have Promising Role of Monoclonal Antibodies? Journal of Clinical & Experimental Nephrology ISSN 2472-5056 January 2016. DOI: 10.21767/2472-5056.100023.
Dr. Sonia Sharma I Pediatric Nephrologist Overall rating: ☆☆☆☆☆ 0 based on 0 reviews.
Anonymous