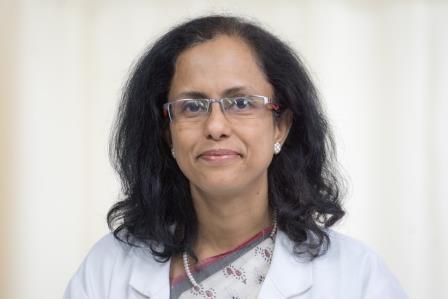 Dr. Swati Sinha
Obstetrician-Gynaecologist
As a practicing obstetrician-gynecologist for over 20 years, Dr Swati is best known for her practical approach, optimism and in-depth knowledge. 
Despite being skilled in performing laparoscopic hysterectomies and non-descent vaginal hysterectomies (scarless hysterectomy), Dr Swati has a keen interest in helping women avoid surgery through medical management and other alternatives to hysterectomy. 
Here areas of expertise include:
Vaginal Delivery

Adolescent and Reproductive health

Gyne Endocrinology

Laparascopic Hysterectomy

Non-descent vaginal hysterectomy (NDVH)
Degree: MBBS, Maulana Azad Medical College, New Delhi (1996); MD (Obstetrics & Gynaecology), Lady Hardinge Medical College, New Delhi (2001); MRCOG Part 1 (October 2010)
Experience: 20 Years
OPD Timings
Tuesday, Friday: 09:30 am – 04:00 pm
Saturday: 09:00 am – 01:00 pm
1st & 3rd Sunday: 10:00 am – 1:00 pm
Consultation Fees
₹1200
For appointments please call us on 011 4211 1111.
Recent Reviews
Patient reviews for Dr. Swati Sinha
★★★★★

based on

18

reviews.

Overall rating:
Premature child birth
★★★★★
"
I was patient of Dr Swati,my son was premature at both,but there was no complication till now.He is going to comple his 10 birthday on 17/11/20 Thank you so much mam
"
Dr. Swati sinha
★★★★★
"
Excellent doctor with imense knowledge. My pregnancy journey went very easy and comfortable with dr. Swati and her suggestions. She doesnt belive in giving medicines unnecessary.
"
Kind Person, Great Professional
★★★★★
"
I found Dr. Swati Sinha an excellent doctor in her profession and someone who knows how to communicate with her patients. Her kindness and patience are way more admirable. My mother was admitted at Sitaram Bhartia and we referred to Dr. Sinha. From the very first moment, she express a very sincere attitude and attention until we checked out. She provides a great advice with too many details and she walks you through the whole process of the treatment as you will not feel any ambiguity and hesitation when you refer to her. During the treatment/operation she will be always there for you and she pays full attention to her patients. That's why I will recommend her for other patients.
"
★★★★★
"
Dr. Swati Sinha is the most amazing and practical doctor I've ever met. I had a twin pregnancy with excessive morning sickness. She was there with me whenever I needed her. It is due to her determination and strong belief I was able to deliver my twins through vaginal birth. I'm so glad that I chose her as my gynae.
"
Positive Doctor
★★★★★
"
Dr Swati Sinha is a very practical approach doctor and especially when she give comfort to her patients . Her guidance and mentoring helped me throughout my first pregnancy when you have so many queries running all day in mind. I can never forget her 🙂 Thank you . Wishing you all the very best in life . From a happy mom.
"
Dr Swati Review
★★★★★
"
Dr Swati is one of the most efficient , honest ,reliable and knowlegable doctor, I have ever met .While prescribing anything she was very practical.Mine was a very difficult pregnancy, and she was available at any time literally. I owe my and my child's wel being to her.I will strongly recommend her for any suggestion.
"
Very Good
★★★★★
"
She is very composed, competent and calm. The best thing about Dr. Swati is that she explains the issues patiently to her patients. When I had issues,she was rock solid and very positive and made me feel better . Excellent at her job.
"
Down to earth, approachable
★★★★★
"
It is hard to find doctors with such down to earth attitude. It's so easy to approach her and bombard her with your endless queries. She will answer all queries being still as a frozen lake. Thank you for your services Doc. Warmest Regards, Hitesh
"
Calm and focused
★★★★★
"
Dr Swati has been a wonderful person first and then a calm and composed doctor who has always been positive. I owe my beautiful lovely daughter to you Dr Swati. You were there when I needed you the most and have a normal delivery just because of you. I never thought a senior consultant will be there till 1:30 am for a normal delivery. Thanks a lot!!! Arohi & Bhaskar
"
★★★★★
"
Positive attitude is her strenghth. She is the best.She gave me rebirth when i lost the hopes that i cant be a pregnant. .I have a angel in our because of her.Thanq Dr.Swathi Sailaja & Yathiraj
"
No nonsense and absolutely calm
★★★★★
"
Dr. Swati Sinha is a reliable and dependable doctor. She has a calming effect on you and two normal deliveries have happened because of her...words fail me but if you are keen on normal child birth and you live in Delhi you just can't miss her...
"
supportive doctor
★★★★★
"
Dr. Swati Sinha is very humble , calm, informative, friendly and supportive doctor who apart from treating also gives confidence to the patient....much needed to expected mom & to their family. Thank you Dr Swati !!!! Sampa & Kunal
"
Best Doctor in the world
★★★★★
"
She is the best, I swear by her. She always believes in natural child birth. she has been my life coach at difficult moments. Thanks to her , i have 2 beautiful kids born normal delivery.
"
Pregnancy
★★★★★
"
Dr .Sinha is brand ambassador of IITD. Many deliveryes had done to I I T Delhi staff , awesome doctor in SRBIT.
"
Pregnancy
★★★★★
"
Dr. and Team are very supportive during delivery. Dr. Support and explain all things very softly .Thanks Dr.
"
★★★★★
"
Dr.Swati Sinha is a wonderful doctor.She provides the absolute best care, and I believe, best advice and treatment during every visit. We have consulted many Doctors and it's rare I've found one as knowledgalble, accommodating, and concerned as Dr. Swati.
"
★★★★★
"
We were suggested Sitaram Bharatia hospital by a family friend. After seeing Dr. Swati we were very much satisfied. She is very co operative and approachable. She is a very competant doctor.
"
Obs
★★★★★
"
Dr. Swati Sinha is a wonderful doctor. She puts her patients at ease. She is a doctor with lot of capacity. The patients are safe in her hands. Overall she is an excellent doctor.
"
Check out Dr Swati's Patient Education Library